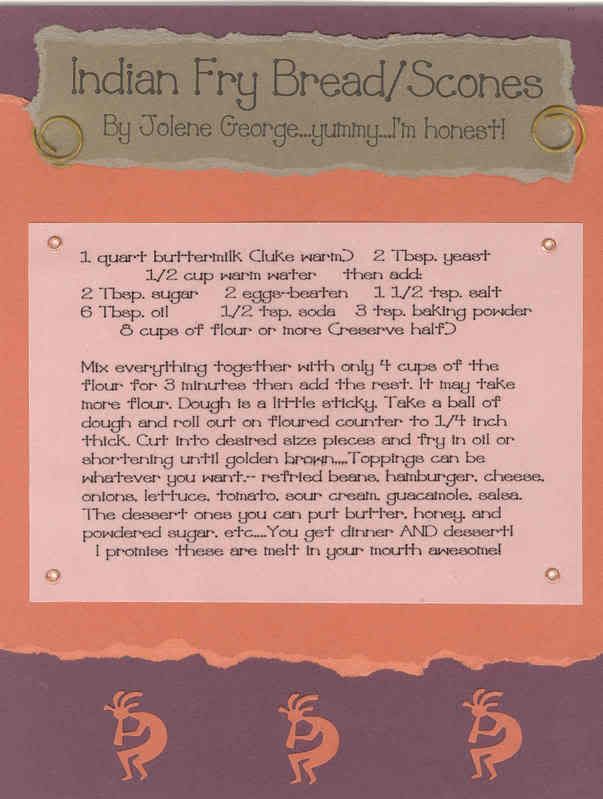 Here is the fry bread recipe Valerie requested. You can click on it to see it bigger.

Okay I lied...sorry! It really doesn't get much bigger than that, so I hope your eyes are good or you best be getting out the magnifying glass. :o)

It really shouldn't be called "Indian" fry bread since it's not a traditional Indian recipe, but that's okay. I had 2 Indian sister live with me while we were teenagers and they would make the traditional fry bread complete with the fancy hand tossing that I can't do. It was very yummy too. I was too tired to type the whole thing so I scanned this from a recipe swap I was in several years back. (no teasing...it was a few years ago) The only thing I would change is that I use more like 9+cups of flour and it's still very sticky dough, but if you roll it out on a floured surface it's easy to work with.
***************************************
On a different note I got to thinking about this whole cool blogging world and wanted to do a little survey just for fun. I want you all to post a comment and tell me how exactly you found my blog and where you are from. I'm just curious...nothing sick or morbid....honest! I just think it's neat that I've got all these new friends and lurkers out there. Anyone game??? Come on...you know you want to. :o)