Cole had a basketball game Saturday afternoon. This is one of his best friends named Taylor. She is a doll...very much a tom boy, but still as cute as can be.
Cole handles the ball more than anyone on his team. He is good at stealing the ball, and he's really good at getting it down court. If it's open then he shoots, if not he is always sure to pass instead of being a ball hog so that his team mates get lots of chances to play. I like that he's a team player.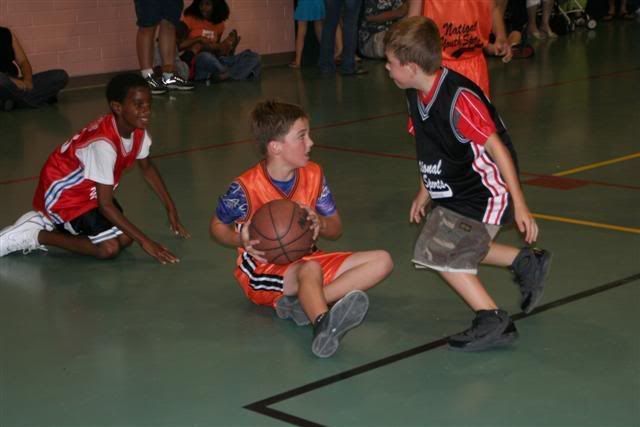 He got shoved to the ground then he was mauled by all the kids right after I took this picture. He was able to pass it off and keep the ball in play. They won...can't remember the score though.

I went into B&B room this morning and took the baby to the kitchen to hang out with me while I made Brek's cake and got things ready for his birthday dinner. I took tons of pictures of him. I was laughing because I couldn't believe how different each picture was even though they were all taken one right after the other. I can't wait to scrap some pages of him. He is such a sweet baby and we love having him home.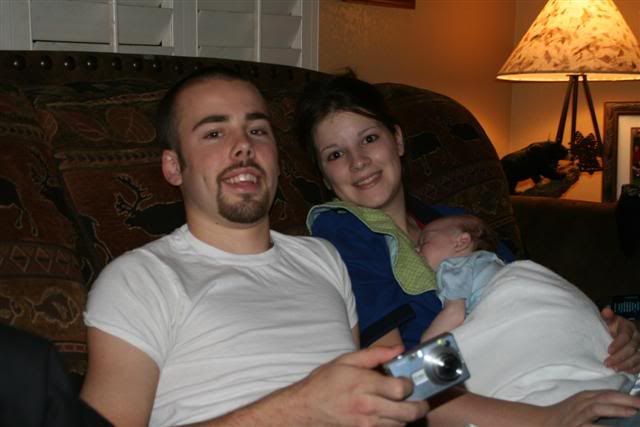 Mommy and daddy feeling pretty tired trying to adjust to their new feeding schedule. Apparently baby Mark doesn't like going right to sleep after he eats. It's going to take some getting use to. My room is just far enough away that I never hear him cry.

We invited my side and Brittany's side of the family over for dinner to celebrate Brek's birthday Sunday night. Brek requested fry bread with all the fixins...beans, hamburger, sour cream, avocado, onion, olives, homemade salsa, cheese etc. Plus I made a huge pudding cake. I was able to feed 23 people with one batch of dough. It makes a ton. As soon as Julie got here I put her to work frying them up while I was rolling them out.

A bunch of them were playing cards while they were waiting for dinner. I wasn't able to get very many pictures because I was too busy. By the end of the evening, everyone was happy and full....sure sign of a good dinner. I'm exhausted! Off to bed!
***Edited*** Some of you asked what fry bread is.... Fry bread is a dough that is fried in oil. It originated from the Indians from a simple flour, salt, water dough. mine is more of a scone dough with buttermilk, yeast, sugar, eggs, oil, soda, and baking powder added to it. You put taco fixins on it...always starting with refried beans to be the "glue" that holds the other stuff on. After you eat the dinner ones, you put butter, honey and powdered sugar on them for dessert...so good... honest!
P.S. I'm not wonder woman...feeding large groups come very easy to me....even 50-100 people is a piece of cake...and I love to do it...I know..I'm weird!