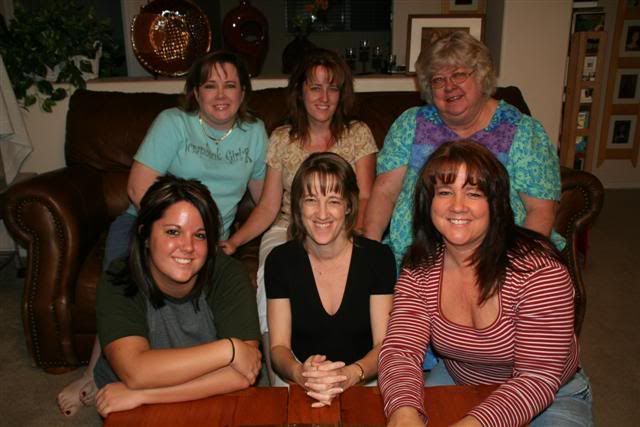 Girls night...left to right, top to bottom... Me, my sister Coleen, my mom, my niece Candice, my sister Rene', and my sister Julie. We all had a fun time together. We met at Coleen's house. I brought over my kitchen aid mixer and made cookies, we had pizza and watched a movie.

Coleen and her son Kaden playing in his room. Her little 2.5 pound dog Ginger was attacking them. She is a funny little dog who pretends that she is much bigger and braver than she really is.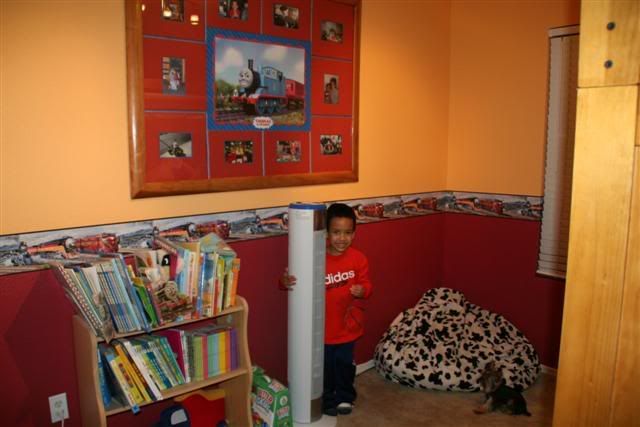 Before I left, I helped Coleen finish hanging the train wallpaper border in Kaden's room. He loves trains! Coleen is having someone from foster care come out to her house tomorrow, so I thought we really should finish it. They are going to be trying to take in a foster child in the near future. She will be such a positive and nurturing influence on a child. I need to help her put together a couple of albums to give to children so that they can get an idea of what the home life is like that they will be placed in. Coleen is a great mom, but they tried for 10 years before she got pregnant with Kaden, so foster care is a good option for her family.

Kaden is very close to Julie. When she leaves on Wednesday morning it's going to be very hard on him. He cried when she moved away in April. I'm taking Julie to lunch and I'm going to surprise her and take her to get a pedicure. She hasn't had one and has always wanted to do it. I think it will be fun to do together.
We has our primary program in church. Before I was a primary teacher I would always get a kick out of the 3 year olds, but now that I'm suppose to have some sort of control over them I see it in a whole new light. I sat with my class on the front row during all the older kids speaking parts. Everytime there was a song my class would stand up on step stools in the very front to sing with the rest of the primary children. For those that don't know, primary age children are ages 3 to 12 so I have the youngest group...mine are all boys and they are HARD! Picture this...a group of boys standing on stools...they are suppose to be singing songs, but instead they are leaping off the stools, twirling around, playing with the kids behind them, throwing their scriptures at the bench I was sitting on. tying their ties in knots, un buttoning their shirts, repeatedly licking their hands and slicking their hair back with their wet hands. Jumping up and down, fighting over which stool to stand on...it was pure chaos. I'm sure the congregation got a good chuckle out of it, but holy crud was it crazy for me! Once that was over we went to class. One of the little boys offered the prayer. It was a cute typical little prayer consistent of I'm thankful for this day, I'm thankful for primary and the scriptures and I love my mom and dad and my sister. Then before he ends it he adds "oh yah...please bless that there will be milk in my fridge when I get home, Amen" We giggled a little bit and he shrugged his shoulders and said "well......we're out of milk!" ROFLOL!!! Kids are so darn funny! :o)