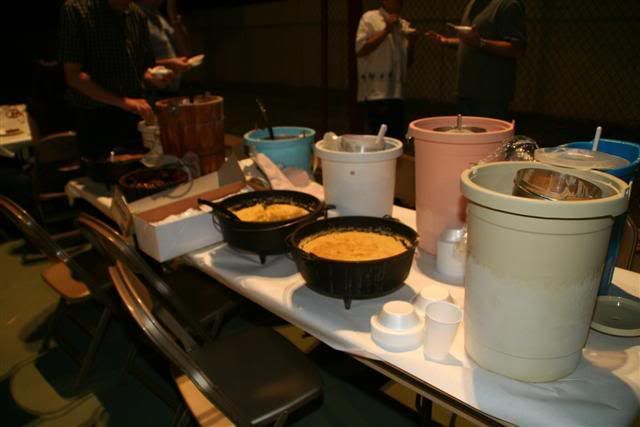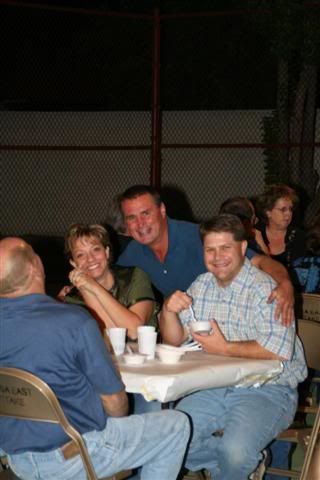 Tonight we had our wards annual BBQ. They smoked up so much meat. We had ribs, brisket, pulled pork and sausages. The ward members all signed up to bring different things...assorted salads, potato dishes, rolls, homemade ice-cream and dutch oven cobbler, etc. Yummm...It was delicious! I brought a huge crock pot of homemade creamed corn. It's always a hit and goes fast. We had the best time laughing and visiting with our friends and neighbors. I love activities like this. The weather was perfect which only made the evening more enjoyable.
Here's the creamed corn recipe
(a smaller batch than I made tonight)
1 - 32 ounce bag of frozen kernel corn
1 quart of heavy whipping cream
1 cup of milk
3 Tbsp. sugar
1 tsp. salt
2-4 Tbsp. Melted butter
2-4 Tbsp. flour
Combine all ingredients except for the last 2. Bring to a boil. Mix together the melted butter and the flour into a paste and add to cream corn. Mix in well and allow it to thicken. Remove from heat and serve. Serve in a bowl with a spoon so you can enjoy every creamy drop.
I went up to the scrapbook store this morning and ran into not 1...not 2...but 3 famous scrappers! I had my picture taken with one of them. :o) I didn't look so good, but that's another story. Plus I finished Cole's costume today as well...CUTE! You'll have to wait till my next post to see...hee...hee...How about you guess which scrappers they were and I'll tell you who's right. :o)