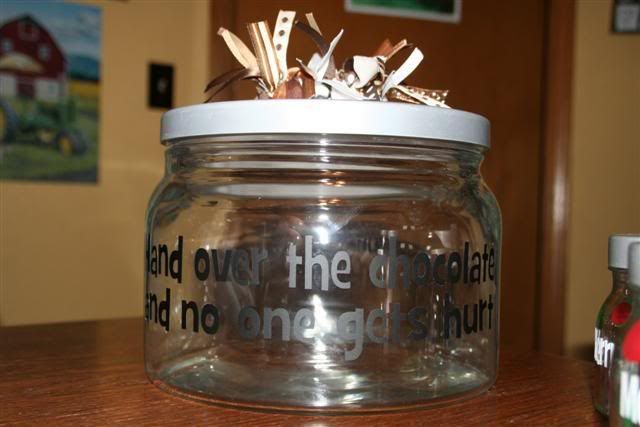 I am deeply touched by the out pouring of caring and thoughtfulness to me and my family. It brought tears to my eyes to read all of your comments...both in regards to losing Cinnamon and the compliments to me regarding my blog and why you read it. It filled my heart with joy to know that people really care about me and all the crazy stuff I seem to have in my life all the time. I guess I never thought anyone would be interested in my day to day life that I'm sure some people would find quite boring or un-interesting. I don't consider it eavesdropping to read my blog...although I talk about personal things, it is a public blog and I love to hear from all of you. I'm just a girl...no frills...real life stuff.
I've been having lots of headaches I got to thinking that perhaps they are stress induced. It made me think back to recent events such as my breast biopsy scare, augmentation surgery, missing the birth of my grandson, sleeping in a dumb chair for a month, the baby being in the NICU for 6 long weeks, worrying about Chad in boot camp on the other side of the country, the financial stress of running our own business, the day to day work of keeping a large family going, losing my Grandma, then losing Cinnamon...it's no stinkin' wonder my head, neck and shoulders are killing me all the time. Mark felt sorry for me and gave me a massage with this stinky oil that gets hot. I got it from my chiropractor. I'm feeling a bit better and smell minty fresh to boot. :o)
Today we had a craft day at my church. Brittany and I did these cute jars. The big one says "hand over the chocolate and no one gets hurt" I'm a girl who loves to have a teeny bit of chocolate everyday. Not too much...just enough to get my little fix. The small ones I will fill for Christmas gifts. Still gotta tie ribbon on the lids. I also made 2 wood plaque signs, but they're not finished yet. The lady who did the vinyl accidentally put our established year as 1992 instead of 1986, so she is re-doing it for me. I will take pictures when I'm done...they're real cute! It was nice to get my mind off things for a few hours and do something fun.
Before I sign off I want to wish my sister Coleen a big happy birthday! Love you girl!!!