Mark had called me to meet him for breakfast and all I had time to do is dry my hair and start my make up. After breakfast is when I went to scrapbooks etc. In my mind I was thinking...it's Saturday...I won't run into anyone I know..."Yah right!" (this was what my Grandma always said) Heidi was there finishing up a clock class she was teaching. What I lack in mascara and flat hair, Heidi made up for in her cute fake pink lashes. :o) Emily took the picture of us. I even got to play with sweet little Capri. She was smiling so much. I just love babies! She is a month older than baby Mark. Then sweet Tena Sprenger comes up and gives me a big hug and said hello while I was talking to Teresa, the Saturday manager. Then Eva Flake comes in to start setting up for her class. Eva has lost a lot of weight and looks great. It was fun to see all these fun and talented ladies.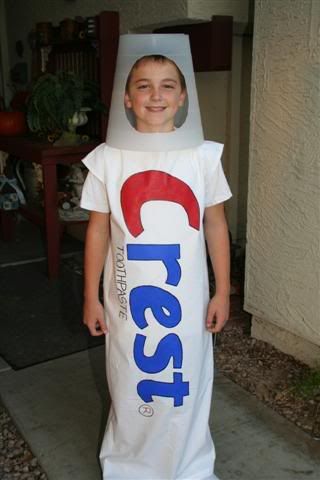 Here is Cole in his costume. Yep! He's a tube of toothpaste! I had him try it on so that I could see if it fit. The only thing I'll have to do is cut and sew a slit in the back so he can take bigger steps. I made it from a flat sheet and a garbage can that I found at Ikea, then penciled on the words and painted it. I made Brek this costume when he was 3 years old out of a pillowcase. That was 17 years ago. He had more laughs that year. It was fun. Cole asked me to make a bigger one for him, so I did. I think he looks so CUTE!
I'm glad you're all liking the recipe's. I do cook a lot of fattening foods. I don't weigh 300 pounds, BUT I do weigh 75 pounds heavier now than when I got married...sigh...I need to exercise...and still eat yummy food! :o) Life is too short to not enjoy food!
I see that Yuma girl has a name! Hi NOEL! :o)