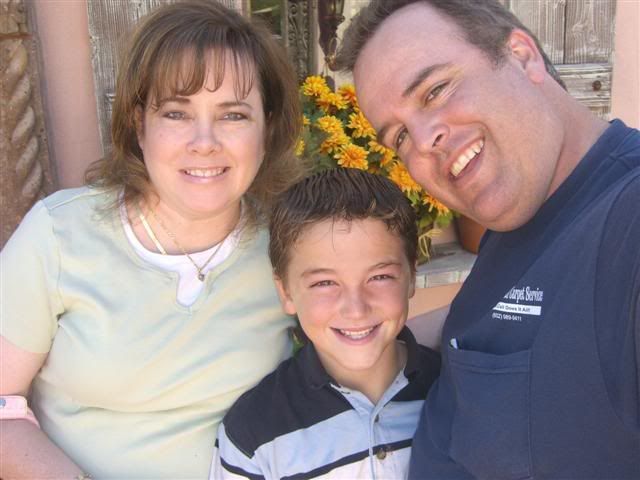 Today is Cole's birthday. My BABY is 10...yep...double digits!!! Oh my heck! Where does the time go? We picked him up from school for lunch at Tia Rosa's. We also brought treats for his class.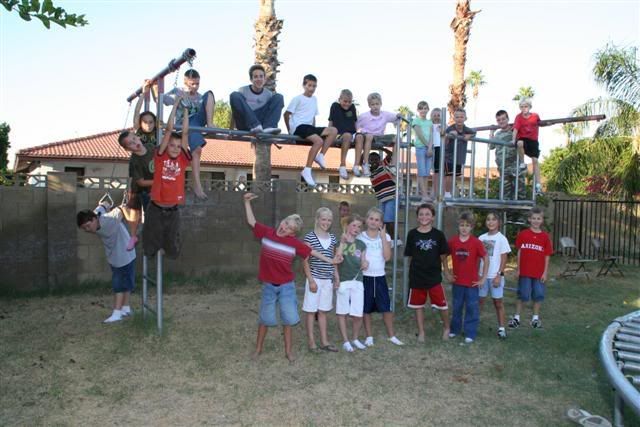 The loser mom that I am didn't plan well, so we didn't get invitations out until the day before. Can you believe all those kids??? All but one showed up. I was shocked!I thought he might get half of who he invited. He is a popular boy. Don't pay attention to my nasty dead yard. It will be gorgeous lush green in another month. Arizona summers stink! Plus we dry it out a few weeks before we plant winter grass.
Here's a few of them eating pizza and drinking gatorade after playing a bunch of games...soon after there was a minor gatorade fight between the boys and girls.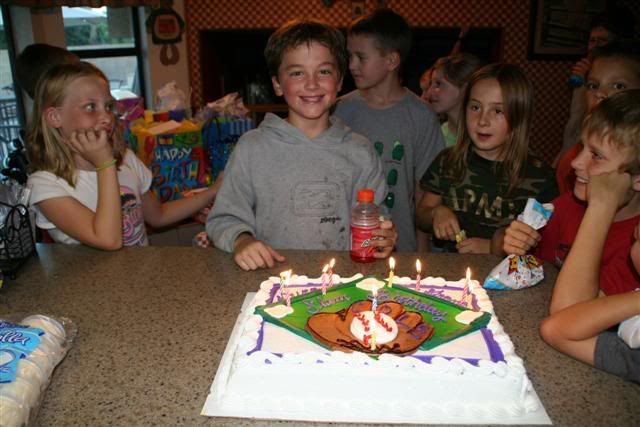 Cole getting ready to blow out his candles while his friends sang happy birthday to him. He loved his baseball cake.
After the party we went up to the hospital to see little Mark. He is up to 8 pounds 1.6 ounces (naked) what a big guy! After he weighed in Brittany dressed him up in his Halloween sleeper. He looks so festive. They removed his nose tube and have him eating again...only 20 cc for now. The green stuff was stomach acid. They said his intestines are functioning for the most part...when it comes to pooping and stuff, but not fully online to handle feedings when they get up in the 50cc range. For now they will raise him up very gradually and see how he does. If he does puke up green again they will have to put a scope down in him to see what's going on down there. I pray it doesn't come to that. The two Grandpa's gave him a Priesthood blessing tonight and I believe in that power. I know Heavenly Father is taking care of this sweet boy.
This is the first picture of me and Mark with little Mark. Too bad we look exhausted. I don't care...I'll still scrap it.
The proud parents... Aren't they are cute little family?!

Isn't he the cutest?!?! Pay no attention to my tangled, wind blown, helmet hair. Mark made us take the motorcycle.
Well that's it for tonight. My eyes are so heavy and my body aches...I'm off to bed!