This morning I met one of my blog readers, Cee (Cicely) at
Scrapbooks Etc

.
She was taking a class there so I dropped by just before it started. She is totally sweet and adorable. I'm so glad I got to meet her....cute cute girl! I'm kicking myself for not taking a picture with her. After I left there I went out to run errands. My bathroom closet has really been bugging me because it's a joke to find anything in there, so I went
Ikea
and bought some baskets to organize my mess....which by the way, Ikea is where you get the cute jars I put vinyl stickers on. Then I went to
Target
to get a new hair dryer because mine croaked. Brittany has been letting me use hers for the past week, but I really need to get my own. Cole was home sick yesterday, so I didn't get much done then. He was throwing up. (gross, I know) I did go get him some gingerale. That made him happy. Today I got a call from the school nurse, so I had to leave Target to go pick him up. He says he's feeling better tonight. We'll see how he is in the morning.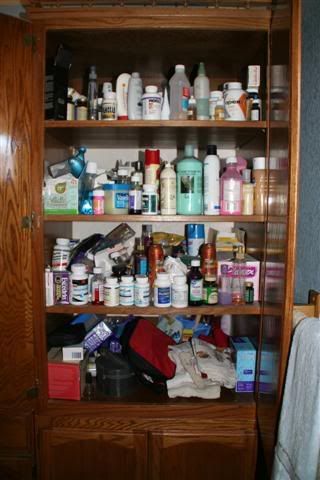 I know...scary, huh?! We have way too much crap!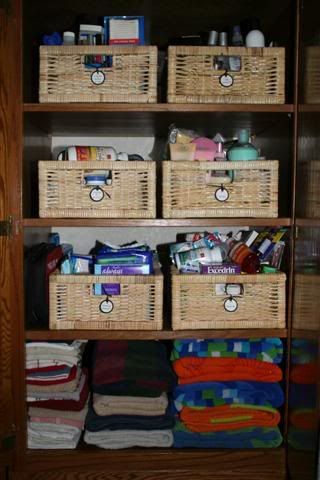 It took some work, but I got it done. Lots better! All the baskets are full and I threw a bunch of really old stuff away. Feels good to de-clutter.
They are all sorted by products...this one holds lotions and good smelly stuff...sprays, etc.

Here is a close up of one of the tags I made, so that we know what's in each basket.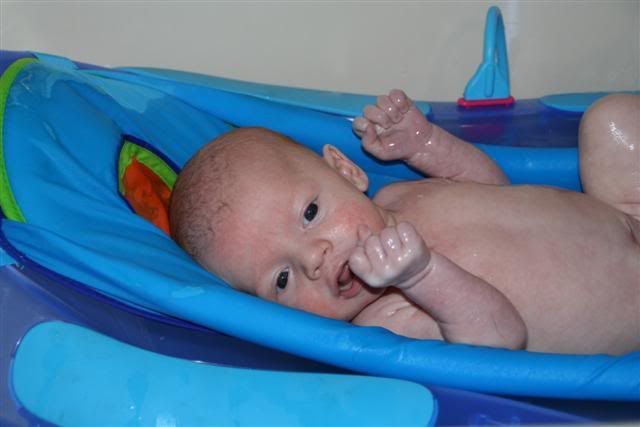 I can't help but include pictures of baby Mark. I have taken so many pictures of him. I think he should be getting use to it by now. This boy loves to get baths!


Isn't he so sweet looking up at his mommy...I love him!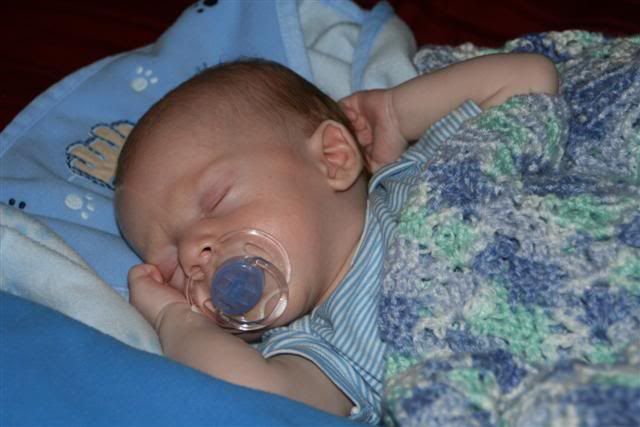 Awwww....sleeping peacefully after his bath. Don't you just want to kiss him???
As for the popcorn, I got that big of bag because my friend wanted it to can for her food storage. We only used a little bit of it. Here is the sticky popcorn recipe. We always make it during the fall.
Sticky popcorn
3/4 cup unpopped popcorn
2 sticks butter
1 1/3 cup sugar
1/2 cup light corn syrup
1/4 tsp. salt
3 cups mini marshmallows
2 cups cashews
1 cup reeses pieces
Pop corn in an air popper. It only holds about half at a time. Remove any up popped kernels. Those are no fun to bite into. You could break a tooth. You'll need a very large bowl to mix in. Pour nuts and marshmallows on top of popcorn. In a medium saucepan over medium high heat, melt butter, sugar, salt, and corn syrup. Stirring constantly. Bring to a boil. Remove from heat. Add vanilla and stir well. Pour over the top of the popcorn, nuts and marshmallows. Stir and fold in until marshmallows have melted. Add reeses pieces...stir again and store in an air tight container....so good...I'm honest!
Completely off topic, but on my mind since I'm sitting here itching like crazy, but have any of you noticed an unusually high number of mosquitoes lately? I am COVERED in bites! I hate those little pesky buggers!
I'm off to catch up on my blog reading....and thanks for the birthday wishes to Mark I cooked him a great dinner. He was a happy man.