Let me start out by saying that I have a new love in my life. Meet Hershey Kisses Candy Cane. I love them sooo much...serious goodness in this bag! If I could just get a bunch of these for Christmas and I'd be happy! You must try them...pick me up a bag while your at it. :o)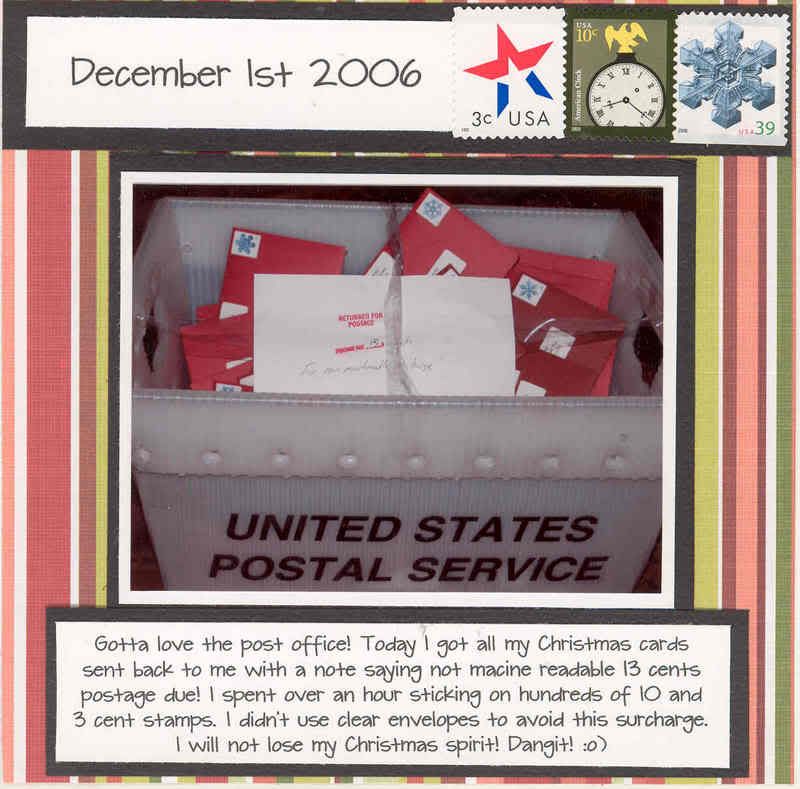 I walked outside today to find a not so lovely post office box full of my Christmas cards that they returned to me, with a note saying not machine readable...13 cents postage due! You know what...I purposely didn't use clear envelopes to avoid this surcharge in an effort to save money. Apparently the brad is too bulky. So I go to the post office...do they have sympathy for me? NO! Do they sell 13 cent stamps? NO they do not. They do however sell 10 and 3 cent stamps so I spent well over an hour in the post office lobby sticking on hundreds of flippin' little stamps. Now they are officially on their way. I came home and immediately popped one of those delightful kisses in my mouth. It make things all better in my mind.
Wendy
challenged me to take a picture everyday in December and scrap it. I thought I had a small 8X8 album to do it with, but I don't so I'm using an even smaller 6X6 one. Not alot of room for any cute things with this size. I don't have to scrap them everyday, but I do have to take a picture everyday, which is no problem for me.
Thank you all for your sweet compliments. They made me feel so good!
I've gotta go get ready...it's date night! My favorite night of the week. :o)