Happiness is having my boy home...if even for 2 short weeks. Gosh I missed him!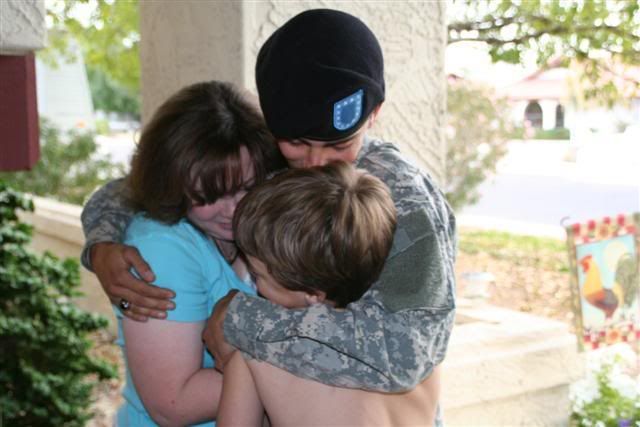 He had lots of hugs to go around. I didn't let go for a long time, so the boys had to share hugs.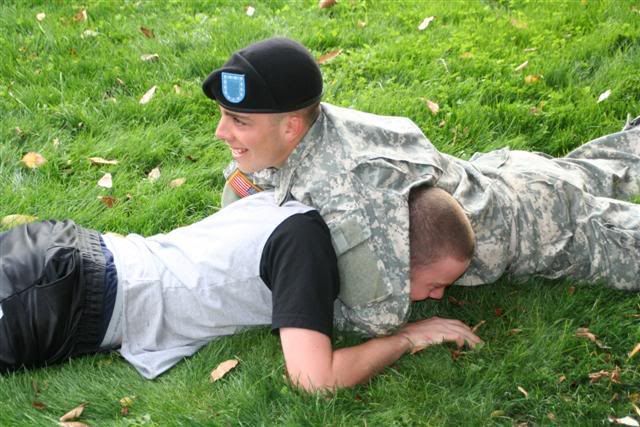 Kyle's not much of a huger so they wrestled instead...boys! :o)

We baby sat Mark today and took him to church with us. Cole sure loves him. He'd fed him and burped him too. Such a good uncle.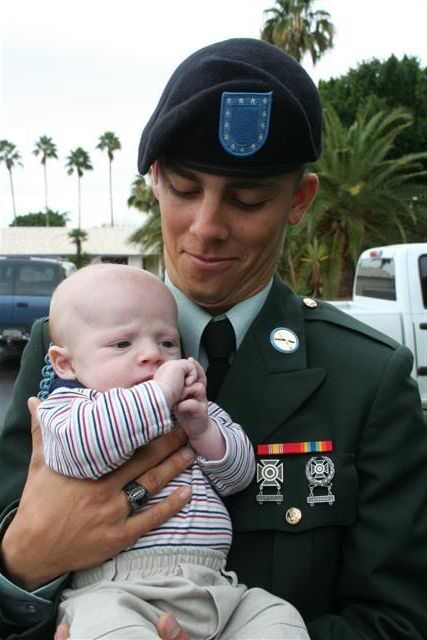 This is the first time Chad has seen him because he was still in the hospital when Chad left for boot camp. Sorry, I forgot to turn the picture and I'm too tired to re-do the whole thing to fix it now....tilt your head and it looks just fine. :o)

Grandpa Mark can always get a smile from baby Mark. :o)

Chad and Sandy. Such a cute couple. They really love each other.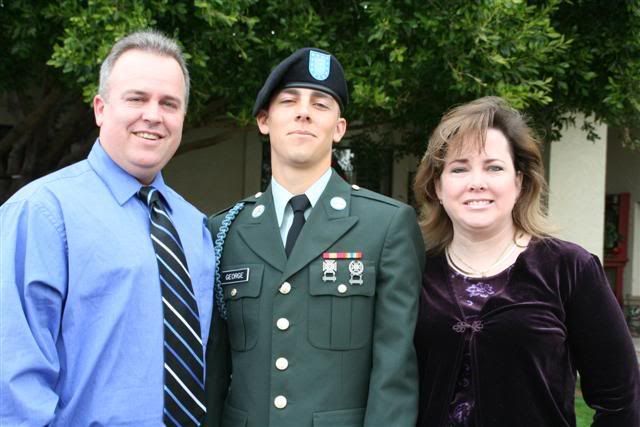 These were taken after church. Chad wore his class A uniform and looks so handsome. The colored bar is for entering in time of war, he got a metal for sharp shooter and another one for expert in grenades. Chad already has his orders. On January 3rd he goes to Fort Brag North Carolina for 10 weeks of training, then a 9 month tour in Afghanistan. That news breaks my heart and also makes me proud. It's so scary to me and it's such a long time. Sandy cried half the way home. She is trying to be strong, but knows it's going to be so hard to be without him for a whole year. We should get to see him for 2 weeks inbetween the training and leaving the country. Let me just say that two weeks is not long at all.
The family party was nice. The food was great as was the company. Everyone is in bed, which is where I'm heading. I promise to catch up on blog reading, questions and emails when I can keep my eyelids open without the use of toothpicks.