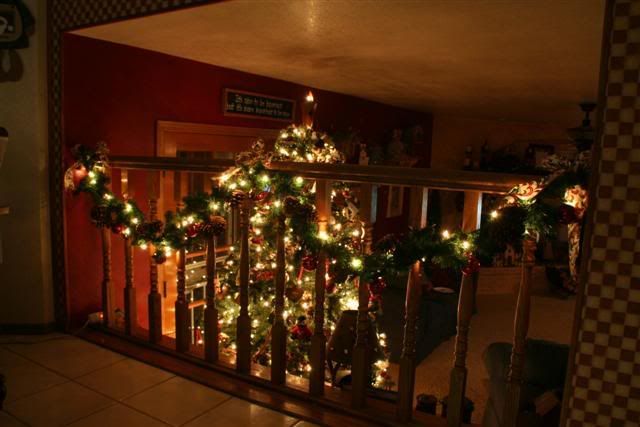 I got my garlands hung up today on the railing and the stairs. I'm done decorating! All the boxes are back in the shed. Kyle is going to do my outside lights this weekend. I have SOOO much house cleaning to do...seriously! The only rooms that are clean are the ones I've showed you. Been working on Mount Laundry. Looking forward to sleeping in downy fresh sheets tonight.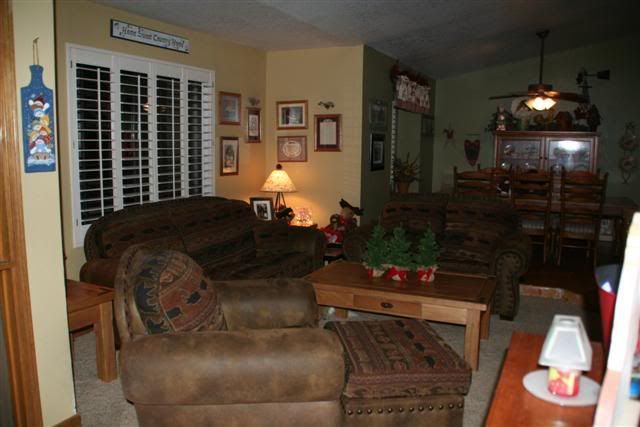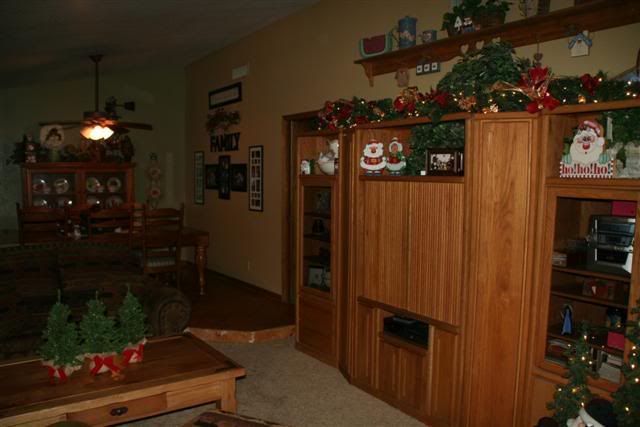 Here's the entry, living room and formal dining room. We usually have the tree up here so you can see it from the street, but this furniture is gianormous. I had to settle for seeing the lighted garland on top of the entertainment center and the grouping of little trees.
Mark is on his way to Fort Benning, Georgia with Sandy (Chad's girlfriend) to go see his graduation. They left at midnight last night and made it to Canton, Texas by 6:00 tonight where they stopped in a hotel to sleep. I can't imagine driving for 18 hours. He drove 1127 miles straight and has another 850+ miles to go tomorrow. After the graduation all THREE of them will be driving home. Chad will get to come home for a couple of weeks until he leaves for more training. I'm so excited to see him, yet it's kind of like a tease and I'll have to go through another painful goodbye very soon, but I'm going to enjoy every minute I have with him.
Since they've been gone I've been trying to work on my filthy house, dealing with getting boys to and from school, almost constant fighting. They can really be a good mood killer. I did make a list and everyone had their chores assigned to get the house ready for a surprise party.
I'm also catering the food for my sweet niece Camille's graduation party form ASU on Friday night. I'm suppose to plan on 60 people. Still need to make my list, shop, make the food, figure out how many serving pieces I'll need to take with me. The party is at her dad's house, so I've got to take everything over there. I'm doing the chocolate fountain too, so it will be fun....and yummy!
I'll be posting my photo a day challenge mini layouts as soon as I get them finished and scanned in. Post number 200 is almost here! :o)
P.S. I still can't log in to comment on certain blogs. Doesn't make sense to me. Hopefully blogger will fix the problem, so my friends don't think I'm ignoring them.