Look who came to see me today!!! I nearly cried! It's been a whole week since I've seen my grandbaby and it was a very hard week at that. It's so hard to go cold turkey from seeing him everyday to who knows when. I held him for a long time...till my arms ached so bad, but it was worth it. Baby Mark has grown so much in the past week. I could hardly believe it. They are all coming over tomorrow for dinner, so I'm thrilled about that. I miss them all.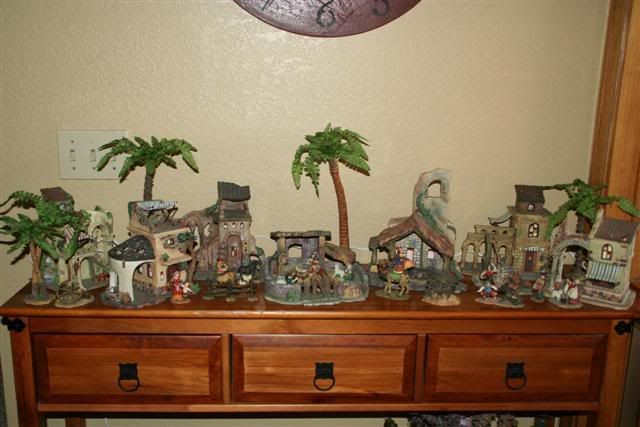 I did get my Bethlehem village set up, but still not my other village, garlands and many other things. There is clearly not enough hours in the day. I'm starting to get frustrated with that. If it wasn't for this need to sleep, I could be really productive.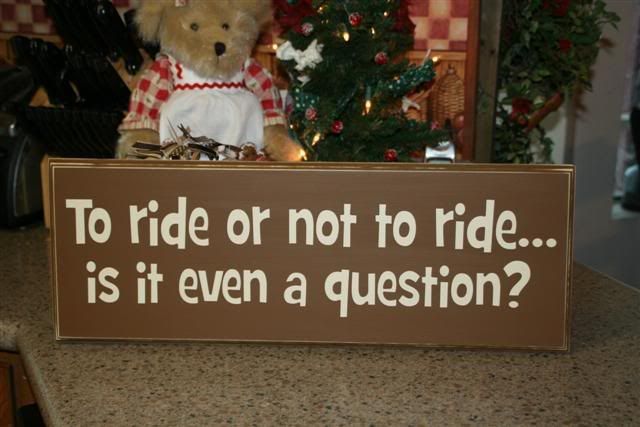 I ordered vinyl from my friend Michele who was so sweet to do it for me on short notice. Gotta love her for that! She's a sweetheart and way busier that I could ever be...apparently she doesn't sleep. Problem solved! :o) She does the vinyl, her husband cuts the wood, I painted, sanded and put the vinyl on, so it's a team effort. She will have her
website
up at running after she moves and gets her family settled in. I custom ordered the quote so I could make a sign for the star riders Christmas party white elephant game that we went to tonight. Actually she did up 2 of these so I could give one to Mark for Christmas. Love it!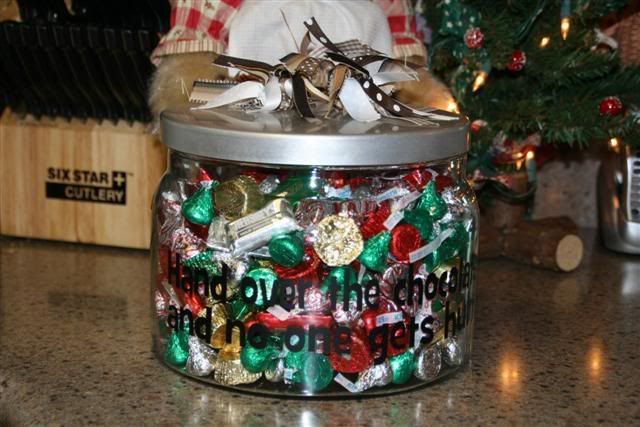 I also got the jar from her. You probably recognize it because I have one too. This was the other gift for the party. This this is huge and very heavy when full of chocolate! Both gifts were very well liked, so I'm happy!

These we're the presents that Mark and I won in the game. I think we did pretty good. You never know what you'll end up with since there are good gifts and silly gifts. The basket had mugs, with dipped spoons, hot chocolate and coffee. We gave away the coffee since we don't drink it. I could have kept it just so I could smell it, because I love the smell of it.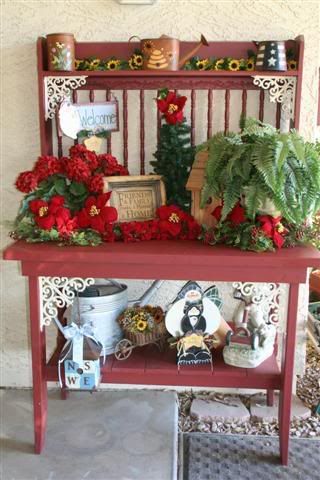 I also got my cute front porch bench decorated up by adding some Christmas things here and there to make it a festive entry way. Pretty cute, I think. So as you can see, I've been doing good at taking my daily pictures just haven't had any spare moments to do the pages.
There is something wrong with driving around listening to Christmas music with the AC on. It's been too warm here...certainly not December weather!

I've decided that I totally don't care when people stare at me while I'm singing along while I'm driving. Their just lucky they can't hear me, because I'm not so good and only sing when I'm alone. While I'm talking about singing, could someone please get that dang Brady bunch song out of my head!

Finally got a new lid on the recycle barrel...so excited about that! I know what you're thinking (she's crazy) but remember that I'm easy to please.

Getting cards in the mail and hanging them on my door has made me happy beyond belief. It's like getting presents in the mail and getting to look at them all at same time.

My 200th blog post is coming up in a few more days. I will be doing RAK giveaways to celebrate. Keep checking back for a chance to win fun stuff!