I've been working on my mood. You all know I'm not the kind of girl that can stay grumpy for long. There are always positive points. The paint could have been spilled in the middle of the floor, but it wasn't, it could have been spilled on the cushions, but it was only on the back of the couch. After it all dried from the steam cleaning, it really isn't too bad. I took my camera in to get fixed and they sent me to another shop. They wanted to keep it for 2-3 weeks...NO WAY! Then I recognized one of the guys and he took a look at it. He got a pair of tweezers and gently moved one of the tiny teeth back in line and now it works! He saved me $150 and 2-3 weeks that I didn't have either of. For that I am truly grateful!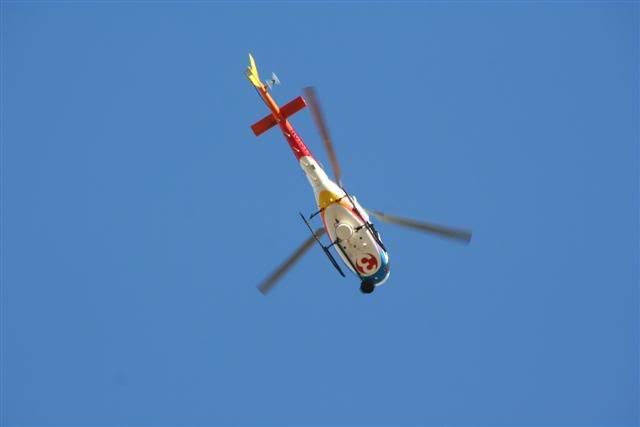 Today there was a lock down at Cole's school and at the high school. Both schools are in the same square mile as my house. Cole called me and said he was in lock down because there was a guy with a gun on the roof of the high school. He was wrong in his information. The real story was there was a guy that was armed and robbing a house in the neighborhood. The owner of the house came home for lunch and found him in his house. The man ran off and was roaming the neighborhood...Hence the lock down. After it was over I went to pick Cole up and took these pictures....since my camera was still in the truck. The news helicopter was right over the school and the other one is of the police talking to our principal. I'm glad that ordeal is over!

Here is my day 5. Mark was sweet and got me these dishes last week. I just got them put in the hutch last night. I've never had matching dishes. I have oodles of serving pieces and tons of kitchen gadgets, but no matching dishes. I've always wanted a basic white set...not an expensive china set. These are from Wal-Marts holiday collection and I love them! The also came with red charger plates...so cute! I'm so excited to serve my whole family Christmas eve dinner not on paper plates. Well not everyone. I have 16 piece setting so I can seat all the adults and older kids, but the little ones will have to have chinet. :o)
P.S. Amie Taylor...I can't leave comments on your blog anymore. It says only team members can, so you'll have to change the setting to allow comments. :o)
Bonus...I made turkey continental soup tonight and Mark did the dishes!