Tonight was our enrichment night for the ladies in my ward. We had a yummy dinner. I made 2 pans of chicken cordon bleu lasagna casserole and there was lasagna, salad, breadsticks, and I had some ladies make my recipe for pumpkin freeze desert. After dinner we had a beautiful program with music and talks about Christ, Mary and Joseph, etc. It was a really lovely evening and a much needed one for me. At the end they gave us each a gift that had our 2007 lesson manual in it and a picture. Their are several different ones. When I opened mine and discovered it was my favorite one of Christ sitting on a bench with a wayward teenage boy. It brought me to tears because this picture means so much to me. I have a larger print on my wall that I got because of how hard it's been to raise all these boys. It helps me feel that I'm not alone in it. My friend Lori gave me a great smelling candle too called Days of Christmas. That was so sweet and un-expected. I've had such a crazy busy day, that by the time I got around to cooking I was in tears from feeling overwhelmed because I've never felt so far behind this close to Christmas. At that point I had to decide between making the dinner or going to the post office to mail Christmas packages. Well I had to cook, so it looks like I'll be doing that in the morning and paying through the nose. The added emotions could also have a bit to do with Chad going away for a year to a scary place, being a grandma again, helping Chad pick out an engagement ring for Sandy, figting off a bug...don't feel horrible, but my voice is almost gone, the day to day running of this family with holiday stuff thrown on top of it. It was all just too much for me. Today is sweet Brittany's birthday. I took her and baby Mark to lunch, and I got her a set of scriptures with her name engraved on them and also a statue of a dad holding a baby on his lap. She has always wanted that one. I've got her collecting them now since I got her one of a man and woman dancing for their wedding and a woman pregnant when she got pregnant with baby Mark. They are really beautiful! I just wanted to make sure her birthday wasn't over looked during the holiday rush.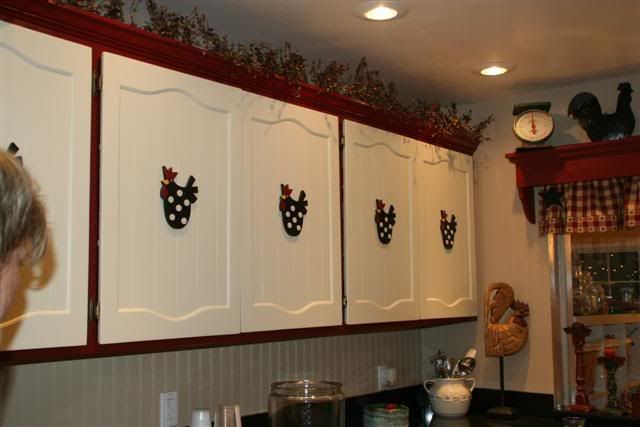 This evening enrichment was held at my friend Kelly's house instead of the church. She and I have the same taste in decor and we both loves barns, roosters and all things country. Those big barn doors is her fridge and freezer! I so love that! I also love what she did to her cabinets. I've been wanting to paint mine out, but have been afraid to make such a drastic change, but I love how hers turned out, just to darn cute...her whole house is serious cuteness!
After it's all said and done, I'm glad I went. It's exactly what I needed to lift my spirits and put my mind in the place it needs to be. I love it when that happens!
I'm off to make a to-do list so that Wednesday runs smoother than Tuesday did. :o)
****edited*** the chicken cordon bleu lasagna caserole recipe is in my archives...July 16th.