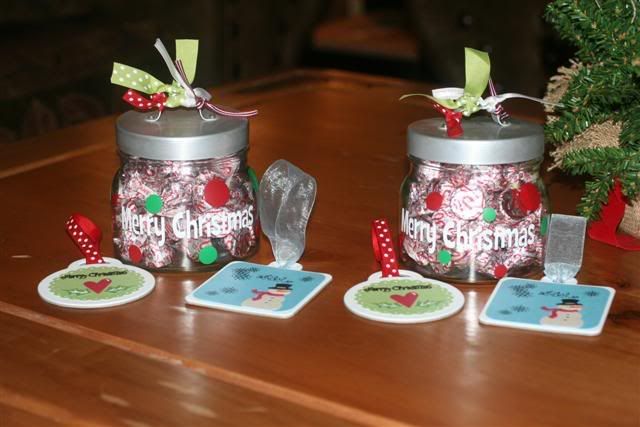 Lets celebrate my chattiness with fun give aways! I thought I'd share my love of candy cane kisses, so I filled 2 of the jars I decorated with vinyl and ribbon with my favorite little treats. I also took time out of my busy day today and made these ornaments. I will write down everyone's names who comment to this post and have Cody and Cole each draw a name out of a bowl. Post #200 deserves 2 winners. :o) I wish I could give them to all of you, but I'm only one woman and don't have lots of money. :o) By the way...between the Zicam nasal swabs and doubling up on my

Vemma

, I feel great today...even after grocery shopping for 5 hours at 3 different stores for the graduation party.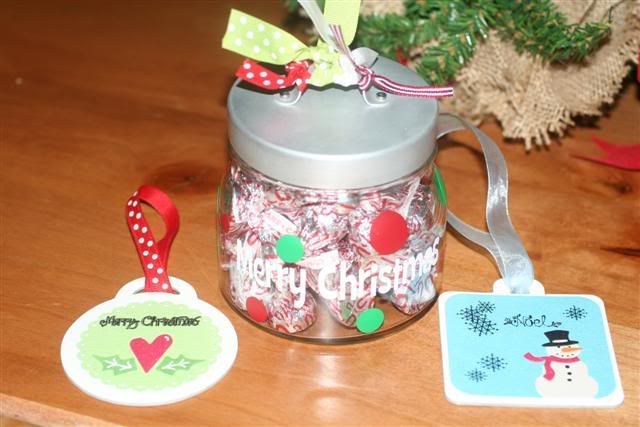 Each winner will get the jar of kisses and 2 ornaments

Close up of the Jolene original ornaments. I used the bazzill bling paper...that's why they are sparkly.
Traditions in the George home...
Start decorating the weekend after Thanksgiving

Black Friday shopping is a must...followed by breakfast out with Mark and my sisters

Listen to Christmas music from the day after Thanksgiving through Christmas night

Family Christmas Eve party here which includes yummy dinner, gift exchange for names we drew and white elephant game...so fun..and sometimes mean in a fun way. :o)

Go to see the Mesa Arizona Temple lights

Drive around looking at everyone's light displays

Handmade Christmas cards

Bake treats and make candy for all of the families on our street

Everyone gets new pajamas Christmas Eve

Read from the scriptures about the birth of Christ before we open presents Christmas morning...He is the reason for the season after all. :o)
Now lets hear what YOUR traditions are. I will have the boys draw the winning names on Saturday to give everyone a chance to post a comment. I really hope to hear from ALL of you...yes even the readers/lurkers that I don't hear from. :o)