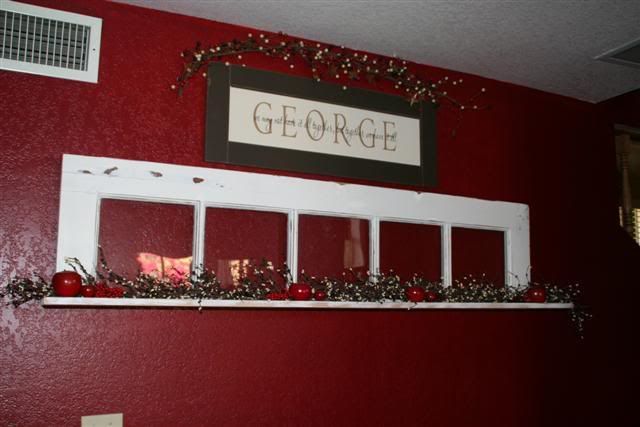 Here is the find that I was telling you about last week. It's part of an old door with a shelf attached at the bottom. My plan is to put family pictures behind the window panes. I got an assortment of red, white and blue shirts for everyone to wear and I'm doing a family photo session on Saturday. I have to get it done while Chad is still here. I thought that red white and blue is perfect, not only because Chad is a soldier now, but because it will look great in the family room. Pretty dang cute, I think! I'll share pictures later this weekend.
I started taking Vemma 2 months ago and I told you I'd update you on how it's working for me. I can honestly say that I haven't remembered to take it every single day, but I do notice when I don't because I'm tired and just seem to be a bit scatter brained, so I always regret forgetting. I like to take it with breakfast because it starts my day off right. I do have more energy, I need less sleep at night and I don't take naps in the afternoon anymore. I get far less headaches, I feel like my thoughts are more organized and I'm more productive, plus I've lost 4 pounds through all the holiday eating and it's not even made for weight loss. All of these things have blessed my life. I am the BIGGEST skeptic and I really didn't want to try it when my dad showed it to me, but now I can't imagine not having it. I function in everyday busy mom life so much better now. I love it!
Here are some testimonials of some people that my dad started on Vemma for anywhere from a few weeks to 2 1/2 months...
Dave...has more energy and requires less sleep.
Matt...who is training to be a professional baseball picture has more energy and notices more clarity in his thoughts and focus.
Derral...no more 2:00 naps
Jared...major burnout from working 2 jobs. He has more energy and alertness.
Ron (my dad)...needs less sleep, clarity and focus in his weekly service work
Ruth...has struggled with the ability to take care of her son who has leukemia, now she feels more in balance and leveled out so she can better take care of him.
Coleen (my sister)...super busy with running in home daycare, has a special needs child, delivers pizza at night, and going through foster care classes. She has way more energy, and notices when she doesn't take it because she can't focus properly. When she's on it she gets more tips because she isn't getting lost delivering pizza so she can get more runs in. :o)
Kathleen (my mom)...she is a diabetic and has weight issues often associated with that disease. She has lost 16 pounds, sleeps much less, more energy, her coloring is improving so much. Her lips are no longer purple and her feet and ankles look so much better. She also has not had problems with sleep apneia. That is huge because it's scary to stop breathing while you sleep. Just the improvement with my mom makes me teary because I worry so much about her. This is truly a gift and I am so grateful that I didn't let my stubbornness keep me from trying this product.
Vemma has mangosteen fruit, xanthone-rich mangosteen pericarp extract, 12 essential antioxidant vitamins, over 65 plant-source, major, trace & ultra-trace ionic minerals, whole-leaf aloe vera & green tea. That's a lot of good stuff packed in this little bottle. Each box comes with 30 bottles to last you a month. They have bigger bottles that you can mix, but the V2-30 pack of individual bottles are so much easier and I think their cute too! It has a 100% money-back, risk-free, empty-bottle guarantee and it's FREE to sign up as a member. What could be easier than that?!
If you have any questions you can call my dad's 1-800 # (he's had that number for years) that way it won't cost you any money to call. He just knows more about it than I do. I just know I like it and I need it...ya'll know I'm a simple girl. :o) Ron Peters 1-800-736-7198 or email him a rpeters2@cox.net Here is a link to my website (you get a website free when you sign up) and also to the testimonial website to see how it's helped other people. I know that plenty of people don't care about any of this, but I've gotten some emails about it so I know that some of you are interested in feeling better in a healthy all natural way. I also put my dad's phone number and email addy on my side bar so it will be easier to find once this post scrolls down into the archives. Thanks for listening to me ramble.
Kim J...Thank you for commenting on my previous post. You commented a few months ago and I followed your name to the website you set up to honor the life of your son. That night I sat here looking at his sweet pictures and listening to the music. I cried and sobbed for the better part of an hour. I couldn't even collect myself enough to go to bed that night. I can't imagine the loss you must feel and how hard the holidays have been for you without him. I've thought of you many times over the past 2 months, so thank you for letting me "see" you again.
P.S. I still can't comment on typepad blogs...not even from Mark's computer...so sad! :o(