I have been so touched by the kindness of others. I got 6 darling red handmade angel ornaments from
Teresa
(blogging buddy) I hung them on my little scraproom tree that sits in the window seat. Now I can look at them all the time. That was just so sweet...thank you Teresa!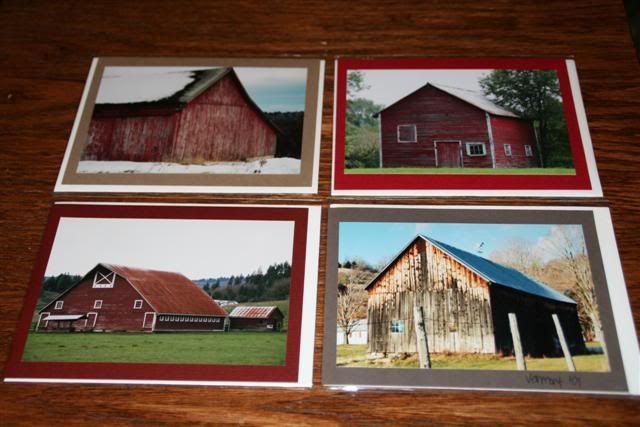 Then

Ellen

(another new blogging buddy) noticed that I liked barns, so she sent me these 4 barn cards. Isn't she a fabulous photographer. I love them and they will not be sent to others. They will be framed and hung in my barn themed scraproom. Thanks so much Ellen!

Look at all the beautiful cards that thoughtful people have sent me so far and I know there will be more in the mail tomorrow. They are from real life friends, family and blogging buddies. They are so wonderful! I love each and everyone. These cards will stay on my door until February 1st. Just so you know, I NEVER throw away cards. I have every card ever given to me. I just can't see throwing something away that someone cared enough to send to me. Every year I look through all the ones of years past and they bring me happiness.
Other things that have made me happy...
Treats that have been dropped of by friends and neighbors.

Finally finding heeleys in Cody big foot size.

Taking care of baby Mark today...seeing him smile and coo...melts my heart.

Spending time with my boy, Chad.

Finding the PERFECT thing to frame family photos in....so excited about this project. Will post pictures when I'm done!

Getting my nails done and I got waxed again...OUCH...tears ran down my face, but I look much better!

Handmade presents are almost done.

Mailing the goodies to the winners on Wednesday. They should be to Juile and Briana soon!

The overwhelming love I feel from all of you through your comments. It mean so much to me to see how you support Chad in what he's doing and how you genuinely care what happens in my family. Friends like that are priceless. My most sincere thanks to all of you!