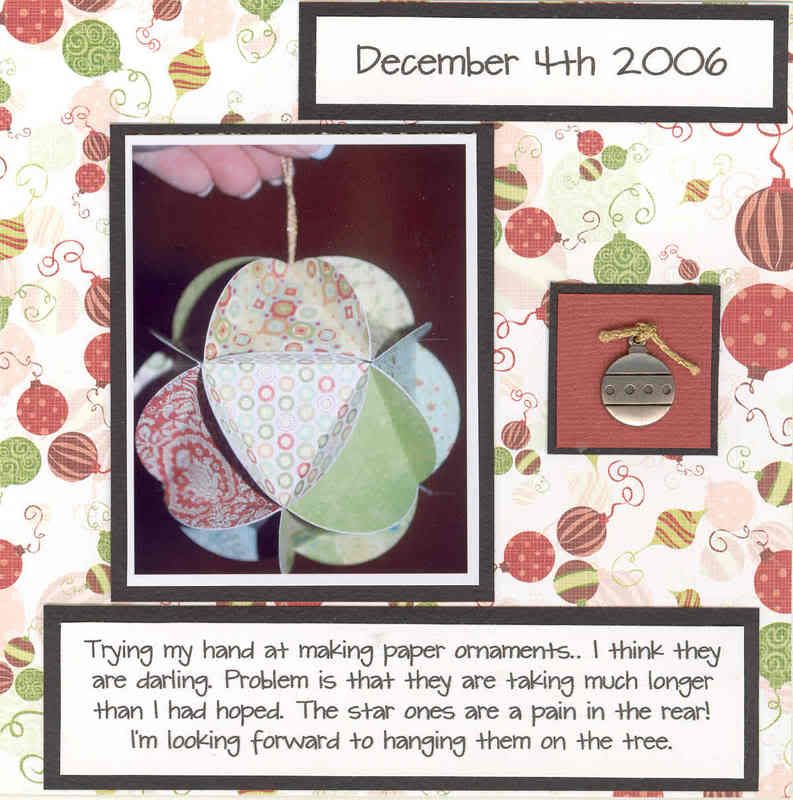 Here is day 4's photo and layout. It's of one of the Basic Grey paper ornaments. They are beautiful and I love them! The round ones are far easier than the stars. I still have quite a few to make. The font I've been using on the layouts is CK Journaling.
I am a GROUCH and I feel terrible that I'm a grouch...who likes a grouch? Not me...so I apologized to all of you for have to put up with my grumpy post. I'm trying to clean this house. Brek and Brittany still have so much stuff here so I can't get things re-arranged. I do really miss them and baby Mark. It feels strange, but at the same time it will be nice to have the house be a little less squishy for a while. After much arguing with Cole he actually got in the mood to clean...but in the process of his cleaning he knocked the can of

RED

paint off the counter in the family room. YEP!

RED

paint on my new carpet, on the walls, on the oak trim, on several articles of clothing and all over the back of my blue couch. Mark quickly unrolled the carpet cleaning truck moments after it happened.

Red

is the worst color paint to spill, so of course I feel terrible because I had to have the

red

paint and didn't put in in the garage., but I'm not done painting. He did what he could. Most of it came out. The carpet has a

pink

tint to it and the couch is worse than the carpet. I threw the clothes away. Cole was crying, I have paint on my nails and I got shocked from trying to get paint off of an outlet. UGG!!! Then to top things off I go to get my camera and pull the CF card out of the printer to put in my camera and it wont go in!!!! The little button to eject the CF card is stuck down and whatever little mechanism isn't letting it release so the card can go down all the way. Can I cry now??? Please???
Tomorrow is another day...Ill just go to bed and start fresh in the morning.
I promise to be happier...I think I'll eat a candy cane kiss or two...or three!