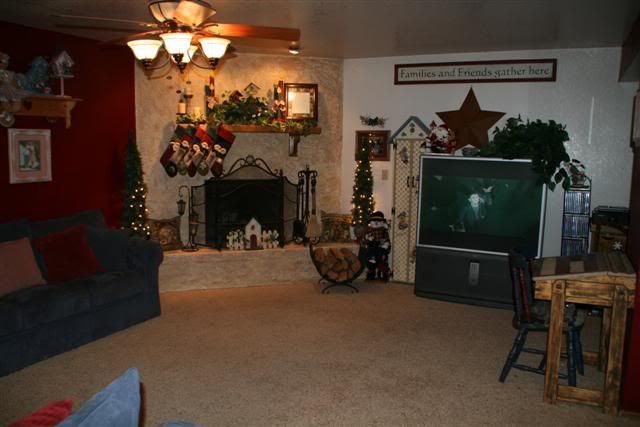 I finally got my family room back! For the year that Brek and Brittany lived here, we had Cole sleeping in the family room. His bed was up against the wall where the TV is. As you can imagine, it was always a disaster down there. The room was very squishy with how we had to have the furniture re-arranged. Now that his bed is in a bedroom we got to move things around to be more spacious...even with a tree in the room. If you look at the red walls in the last picture you can see that the nook wall is still the old red color. I do have enough paint in the can from the spill to finish painting back there. By the way...the spill was under the little americana desk. I also need to paint the white wall behind the TV, but that one will be cookie crumb color. I already have it from doing to living room. That may not get done till January. I'm only one woman you know! The fireplace was a plain icky navajo white color and I faux painted back when I painted Brek's old room. I really wanted to put up stone on it, but couldn't afford it, so paint and glaze did the trick to freshen it up. Anyways...this room is as decorated as it's going to get except for the garland on the railing and I'll get it up tomorrow.
There's lots of stuff going on right now and I will tell you about it...just not tonight. My head is feeling much better and I figured out why my head hurt so bad when I woke up this morning with cramps! CRUD! I hate cramps! I'm done having babies for Pete's sake....lets just shut the plumbing off already!
Thanks for visiting my blog...whether you're a reader or someone who leaves me comments. I appreciate your friendship and kindness.