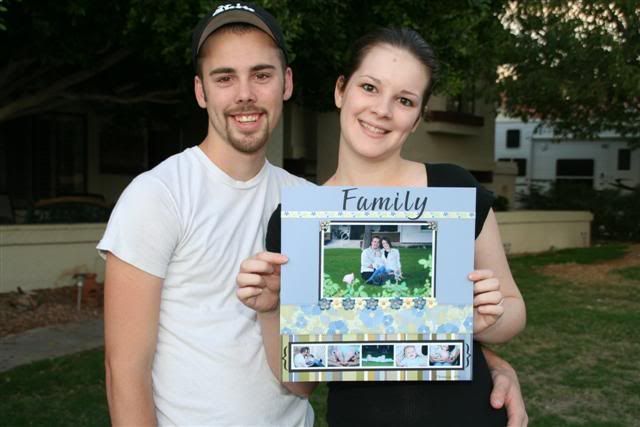 Today was Brittany's dad's birthday and she wanted to make him a scrapbook page he could put on his bulletin board at work. We both worked on it together. It's a lot like the one I did for Carter. Brek and Brittany had dinner with her family tonight and she said he loved it.
A close up of the layout

Do you see what I see??? Yup! Those are fishies...just like the cute little one Mark had while he was in the NICU.
Jen
sent it to him. Wasn't that just the sweetest thing ever?! Thank you so much Jen! We all appreciate your kindness. I'm getting batteries in the morning for it. He is going to be one happy baby!


Okay...here is the Christmas card design that I finally decided on. It was such a frustrating thing when I hated everything I did. This one I can live with. I so love
Chatterbox
paper. I picked up the valentine ones today appropriately called the
Love shack
...so dang cute! It's still a lot of stinking work when you think of making 240 of them...1 down...239 to go. :o) Not to mention the fact that I still need to take pictures and order 240 wallet size prints and write a cute little message inside. Anyone interested in card making assembly line work??? Didn't think so! :o)
I almost forgot...tonight me, Mark, Rodney (Marks brother), & Cam (Rodneys wife) went out for a motorcycle ride. We noticed a car behind us swerving and hitting the curbs on both sides and he almost hit us. We forced him to stop and Rodney asked him if he was okay and told him how he was driving, then the guy took off. He reeked of alcohol. We called the police and described the car and told them the direction he was heading. We wish we could have gotten his keys away from him. I hope the police caught him before he hurt someone. The thought of a drunk driver on the road makes me sick.
Okay...you know you're up to late when your eyes are burning and it hurts to see.