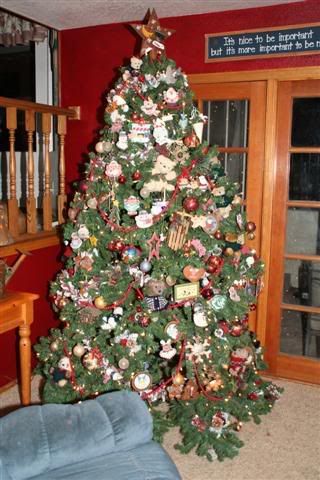 I finally got the tree decorated tonight. We had spots that the lights were out in the middle and the bottom. I spent quite some time trying to fix them, then I gave up and headed to Wal-Mart to buy 300 more lights. The squirt bottle is working pretty good at getting the kitties out of the tree speedy quick. I haven't found the tree skirt yet or decorated anything else. I just haven't had the time. Last night Coleen did come over to help me with Christmas cards until midnight. That is why I couldn't blog last night. I only have 24 more to go...but only 12 more envelopes, so I either lost a pack or miscounted. That could really go either way. :o) We had yummy Vito's white sauce with chicken pizza. It was so dang good! That is really the only pizza I like.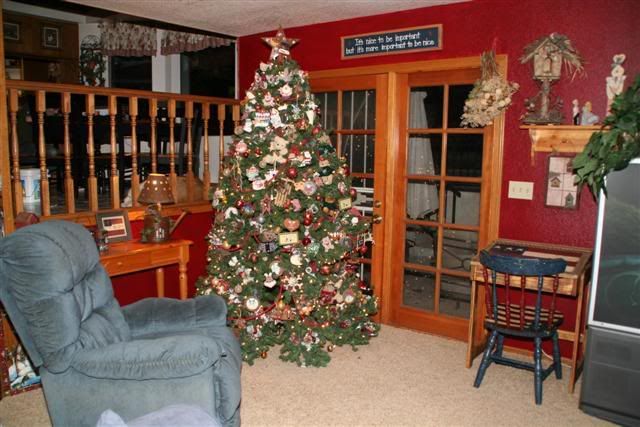 You can see some of the red walls in the family room. We usually have the tree in the living room on the main floor, but the new furniture is huge, so there's no room in there. My house is a tri-level so the room you see through the railing is the dining room then the kitchen behind that.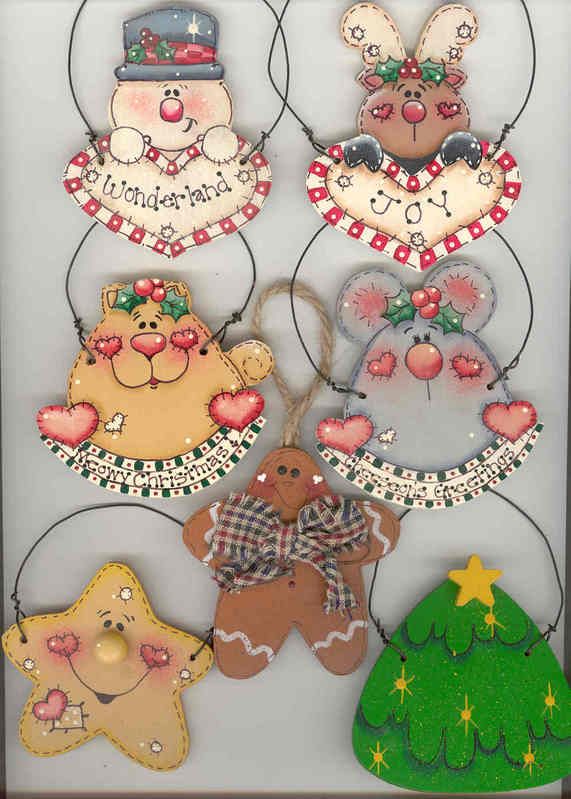 A lot of the ornaments on my tree are ones that I've made. Here is a scan of some of them. I cut the wood and painted these several years ago and still love them. They took a LONG time to paint. I made the rag tie garland too. I haven't made my basic grey or bazzill ornaments yet. I'll get to those as soon as I finish these cards...and yes I am sick of making them. I still think they're cute, just tired of working on them.



Here is the tree without the flash. Last year
Amy
taught me how to take a picture without a flash the right way so that the lights are sparkly and brighter, but I forgot. I need a refresher course. I post another one if I figure out how to do it right. It really does look better in real life.