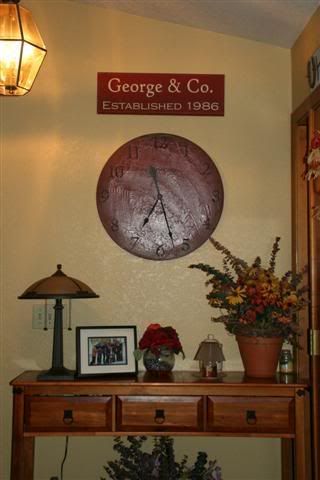 Look what I got finished today with the help from my new friend Michelle. She has her own vinyl company and is very reasonably priced and a sweetheart to boot. I painted these projects last month, but wanted her to be able to get through some big events she was doing and Halloween before I bugged her to do my vinyl. She is the same one who did the vinyl for my cute jars. I SO LOVE these pieces and plan to order some more as family Christmas presents. The established one I hung in the entry way by my front door. The bigger one will be downstairs in the family room, but I need to repaint that room first...problem is I bought the paint months ago and I can't remember exactly where I hid it from myself. I hate it when I do that! My family room is already red and the paint I got is a deeper red. There are a lot of scuffs and dings. It just really needs to be freshened up...especially for the holidays. That is a project for me and Brittany. :o) I have an idea for that wall that I'm excited to try. I'll share pictures when I'm done.
I'm thinking that random thoughts is going to be a staple on my blog because I can say a little blurb about things without telling a whole long story or things that don't really have the need for more that a one liner. I like that I can just get things off my chest and out of my head....and since it's my blog I can do pretty much whatever I want. :o)
Today's random thoughts...
Cody is better today...still got a call from the nurse regarding a rash on his arm. It's always something. :o)
Got a call from Cole's school nurse too...he had a headache
Maybe my boys just like the nurse...hmmmm...
I always smile when I walk in the room and click refresh and see that there is a new comment
I am so easy to please...it's just silly how easy. :o)
Baby Mark has a little cold...so does Kyle
Our employee Eric is VERY sick today...bad things are coming out of every part of his body...ick! (TMI)
Mark had a full schedule on his own after Eric went home early
My pictures are not here yet, but should be here tomorrow (Friday)
I don't HAVE to have my cards done by Thanksgiving...I just want them done so I can turn my focus to other fun things to do with my family.
Really wish I knew where I put that darn paint!
I'm outta here...I have cards that need to be made. :o)