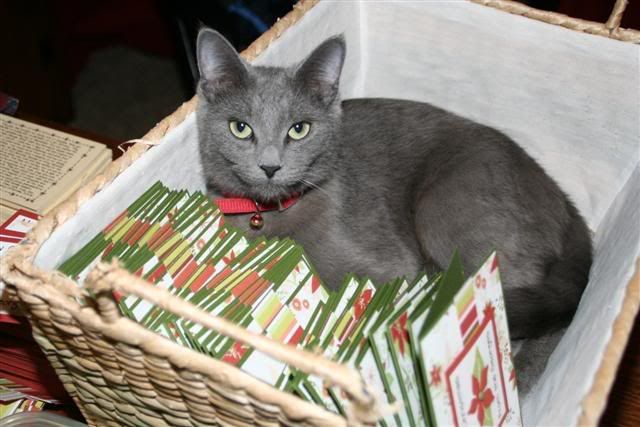 I had some help with the cards today...at least she thought she was being helpful. The reality was...not so much!

Yup! Not even on the clock 20 minutes and I find her sleeping on the job...and to think I paid her in advance with kitty treats...sheesh!
Random thoughts and stuff...
no make up
hair pulled up
stretchy pants and comfy t-shirt
not so pretty, but I'm comfy
47 cards done
mine and Mark's laundry is done
my kitchen is clean
my floor is not clean
pot pies for dinner
in my defense I did make a great dinner last night
hate construction on the way to Kyle's school
can't find my sandals
sick of popping out the center slits of leaves
adhesive smells funny
Cody de-pantsed Brek in the kitchen...not a pretty sight...shudder..
got a shipping email from winkflash this morning...so fast!
really hate 9th grade bullies that pick on 7th graders
enjoying my caffeine free pepsi with my teeny sonic ice
looking forward to Thanksgiving and pie making
Have boy hair on me from giving a hair cut
really wanting a shower and a good nights sleep
hoping all of you had a wonderful day! :o)