Happiness is...having ALL 240 cards DONE!!! Yep! I'm done! Addressed, sealed, stamped and to be delivered tomorrow. With the exception of a couple of addresses I still need to get. Oh happy day!
There is a cold front hitting Arizona today. Mark and I took the bike to the star riders dinner and I FROZE my butt off...seriously! As soon as we got home I got into warm pajamas. I could only find one slipper so I warmed one foot at a time. Now that I've thawed out I feel much better. I don't envy you girls who live in cold country. I'm such a wimp!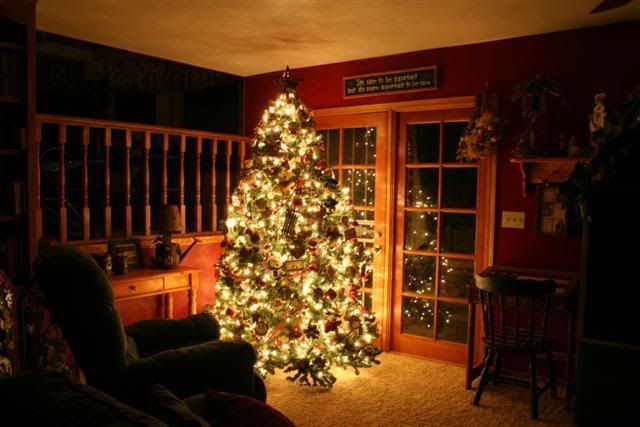 Amy gave a great tutorial on her blog for how to photograph Christmas lights since a bunch of you asked her for help. I tried again tonight, but I couldn't find my remote and just held down the button myself. I'm still happy with the results. It looks sparkly and much better...thanks Amy!

Today would have been my oldest sister Debbie's 46th birthday. She died 6 years ago and we all miss her dearly. Here is a picture of all of us when we were little. From left to right...Me, Julie, Debbie, Coleen, and Rene'. Happy Birthday Debbie...We love you! Isn't it ironic that my mother had 5 girls and I had 5 boys??? LOL!
Random thoughts...
Really wishing I was done with my Christmas shopping. Older kids are VERY hard to shop for.
Brek, Brittany, and baby Mark are moving out this weekend. I have mixed emotions about that.
I've GOT to start getting to bed much earlier. This 12:00-2:00 is just plain nuts!
You know you're old when you sneeze and pee you pants...or cough, laugh hard or jump on the trampoline for that matter.
The next several days are going to be nothing but cleaning and decorating...with some ornament making snuck in there.
Welcome all of my new blog readers...feel free to leave comments. I love to read them!
My dad's Birthday is tomorrow (Thursday) Happy Birthday Dad...I love you! :o)