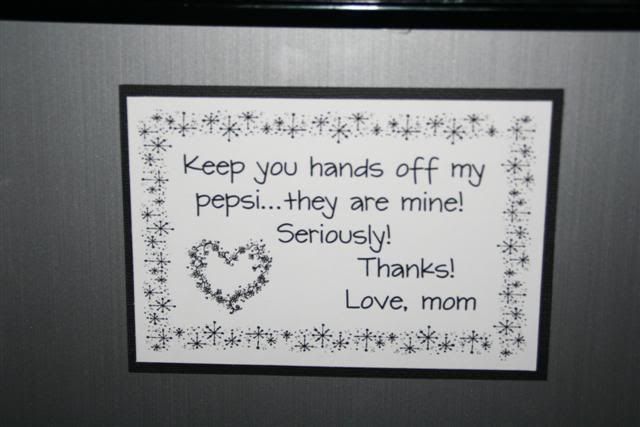 Is this mean or what?! I couldn't help myself. We have a mini fridge in our bedroom that we keep soda, bottled water and

vemma

in. I buy sodas for the kids, but once theirs is gone they sneak into mine. It makes me crazy when I know that I have one left and I'm saving it for dinner. I go to get it and it's gone! GRRRR!!! I only have energy for a few random thoughts tonight because...
I am sick!...dangit!!! Why must they share their germs with me?

Today I am so thankful for my bed...and my bathroom

I really want a pepsi!
I did make the clock and thank you!
Michelle does have a website. It's called

Tiffany's room

. It's under construction, but you can still contact her.

Mark took the motorcycle to get me pepsi...problem is I don't think he plans on getting it in this city.

Brittany cooked dinner...thanks Brit!
Those people out buying those playstation 3's are just plain CRAZY!

Cole's nurse called and said he's been in 20 times this year...sigh...had to have a talk with him about that.

Tomorrow I get to talk to Chad...yippee!

My head and tummy hurts...very dizzy too!

I didn't leave the house today. Didn't think driving while dizzy was a good idea.

I DID get my pictures YESTERDAY. Not bad since I ordered Monday afternoon. The mailman hid them. Mark found them. He won't come near my front door because he is scared to death of Cinnamon and doesn't know she passed away.

Perhaps I will leave a note for him in the mailbox.

We didn't get to have date night tonight...Mark is so sad!

If I feel better in the morning maybe we can still do our Saturday breakfast together.

It's nice to see so many new faces as well as my old friends too! Thanks for visiting and commenting! You seriously make me happy!

Hey! my pepsi is here...so is some kids soda to distract them from mine.

Back to bed for me...have a great weekend!