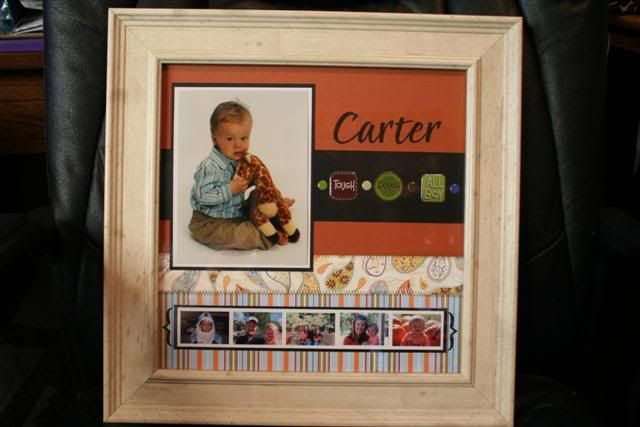 Here is the framed scrapbook page that I made on Saturday for my nephews 1st birthday. (Chatterbox, of course) I also bought him a really cute riding pooh and tigger airplane. He loves the airplane and his parents love the frame, so everyone was happy.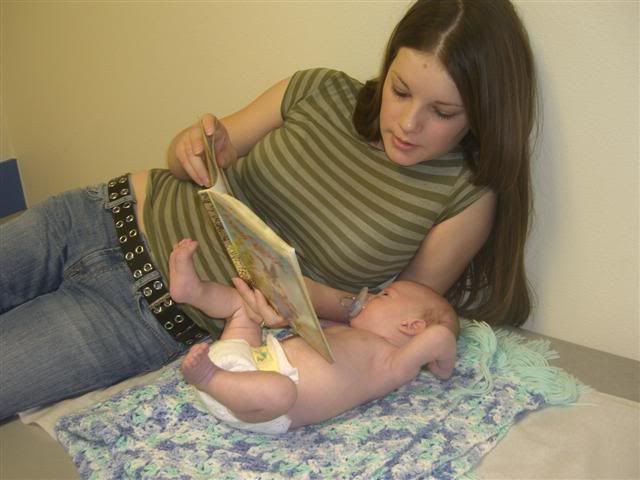 We took baby Mark to the doctor for him 2 month check up yesterday. He is up to 10 p
ounds 6 ounces, so he's doing good. Brittany was reading Peter Rabbit to him while we waited for the doctor.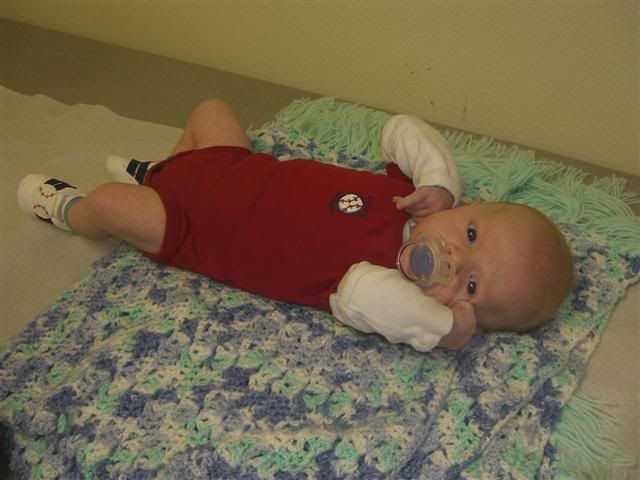 Here he is after she got him dressed, waiting for the nurse to give him his shots. He looks nervous to me.

One oral and 3 shots later...OUCH! Lots of screaming and one unhappy baby and mamma. She said Brek can take him to his 4 month check up.
My local scrapbook store called me yesterday to tell me that the Chatterbox Christmas paper came in and they pulled 2 of each sheet for me. They still don't even have it out on display yet, but I have it! Oh happy day! Problem is I still haven't gotten the sheets I ordered from Chatterbox for my cards. I emailed them about it and they sent me a shipping confirmation, so it will be here tomorrow. :o) Since I had the paper in hand and I could see it's true colors I was able to buy the matching bazzill cardstock. I came home and worked on my card design...sadly I hated everything I came up with, so I was very frustrated thinking there is no way I can sit here and make 240 cards and hate them. Finally about 10:00 last night I came up with a design I liked and could live with. Now I just need to beg some of my boys to quickutz me out 240 poinsettia flowers and 480 leaves. We will see if I get any takers...maybe if I with hold dinners..hee..hee...that is evil!
Today is election day, so be sure to vote...but it also means that these childish campain commercials are coming to an end...thank heavens!