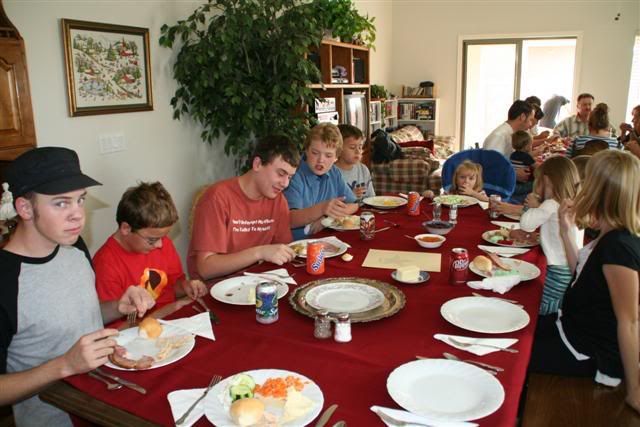 Thanksgiving with the Georges....Mark's parents moved back to Arizona this summer so this is the first family gathering in their new home. They set up 3 long tables in the family room and we fit 10-12 people around each table. I didn't get a shot of the table I was at, but it was a full house. We ate till we could eat no more...then we ate pie. So wishin' I had worn my stretchy pants. Cole got sick on Thanksgiving morning and had bad things coming out of every part of his body at least a dozen times, so him and Mark stayed home, which was sad. Cole cried because he wanted to go so bad, but knew that he couldn't. Mark stayed home and ate frozen pizza while Cole slept on the landing in front of the bathroom door so that he wouldn't have to run far. Not such a fun day for the two of them. I did bring home food for Mark that he ate later that night, but it's just not the same...know what I mean?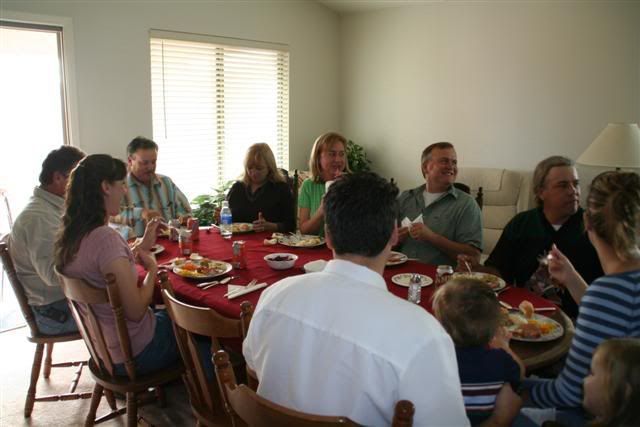 Gotta love Mark's dad. He always does the dishes. It's so nice of him and the women really appreciate it after cooking all day. Thanks Ray! Mark's mom is a great cook and she can feed a crowd with ease. I appreciate all the work she put into making it a special day for the family. After dinner the adults hung out trying to let their food settle while the kids went outside to play. I think they had the right idea...work off the meal. I thought I'd share some pictures of all the younger kids that were there.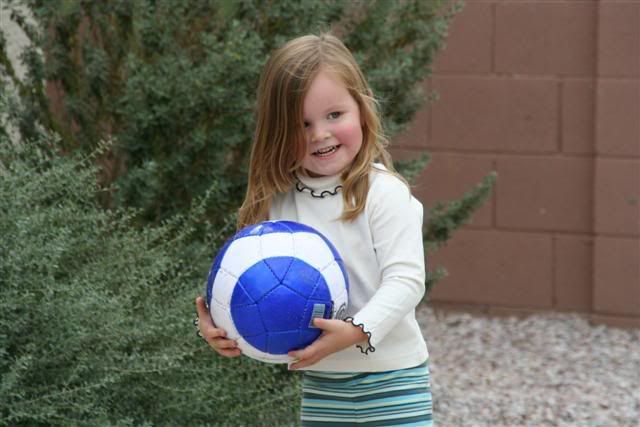 This is Olivia who is so pretty, yet never ever smiles for pictures. I only caught this smile because she didn't know I was taking the picture.

Here is sweet baby Carter who is Olivia's little brother. He just turned one and loved playing with my lens cap.

How cute is she??? Kaitlyn is the youngest grandchild and looks just like her beautiful Mom, MaryAnn (Mark's sister)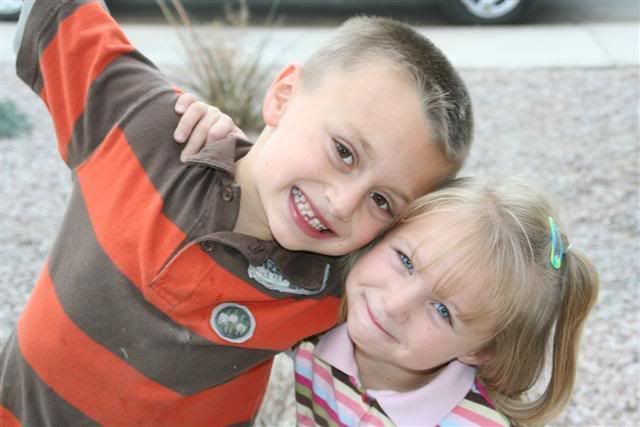 Jaron and Adrienne...the very adorable older brother and sister to Kaitlyn. These kids are sweethearts!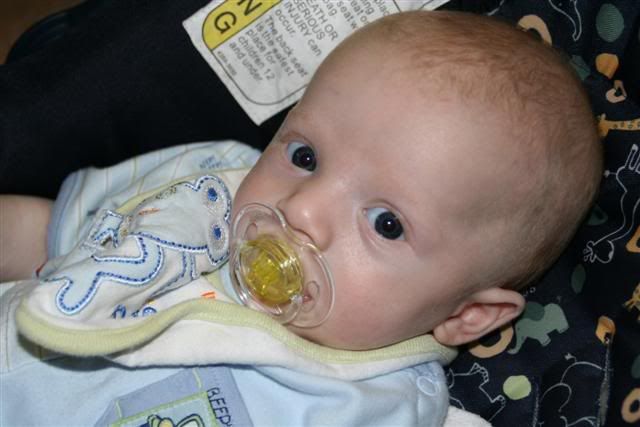 Baby Mark...the first great grandchild in the family. He was so good all day. It was the first time for alot of the family to see him. Of course they all loved him to pieces. How could they not.
Mark and I got up this morning to start our Christmas shopping. The alarm went off at 4:00 and I just couldn't get out of bed. I had an upset stomach and I was beyond exhausted from only getting 3 1/2 hours of sleep the night before and barely any sleep that night because my stomach hurt. I like my full 8 hours of sleep and don't do well on anything less. So I fell back to sleep and got up at 6:15 and we were in Target by 7:00...late, but who cares. It not like when our kids were small and easy to shop for, plus we are on a tighter Christmas budget this year, so we are really simplifying it. I know we can still have a wonderful Christmas without spending a small fortune. There is so much more to Christmas than presents, and to me the season is so much more special than the day itself. I will make it a nice and fun season for my family. We also got together with a bunch of the family and went bowling today. I can't believe I'm sore from that. I'm such a wimp! I haven't started to decorate or even get stuff out, but Brittany did find the red paint today so we will be painting in the morning when we feel better and are well rested...then the tree will go up. I'm so excited to decorate. I can't wait to see all of your festive homes too. For now I'm going to bed. I promise to catch up on my blog reading. I look forward to seeing what you've all been up to. For those of you who don't have blogs, feel free to email me your holiday pictures. I'd love to see them. :o)