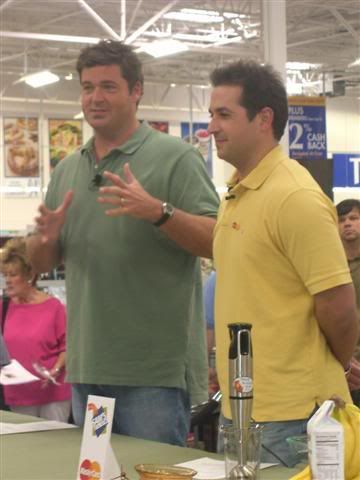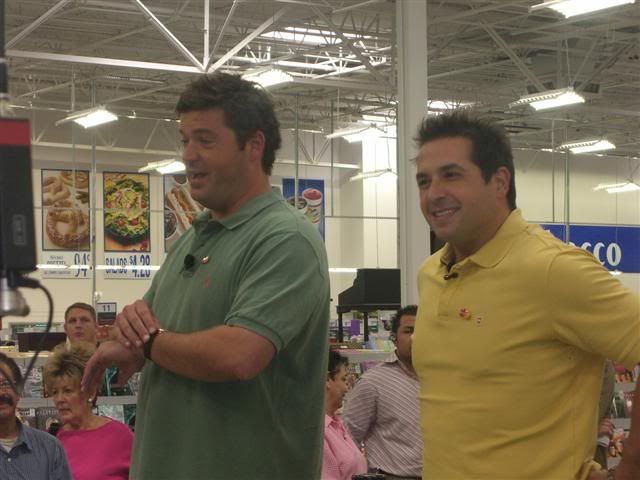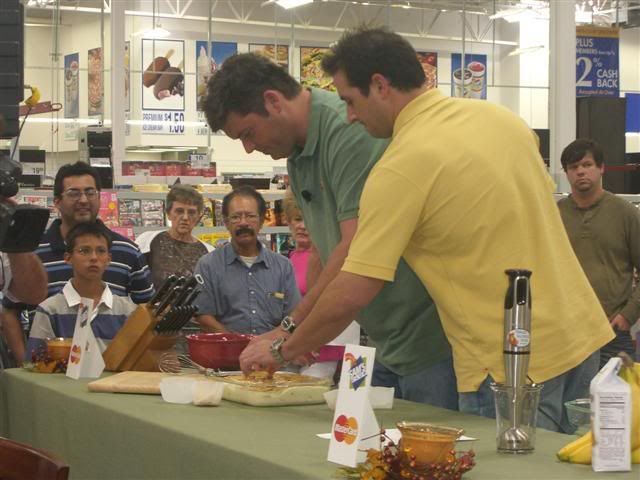 Look who I met today! Yep! it's Jamie and Bobby Deen...son's of my most favorite Paula Deen. They were at Sam's Club in Chandler doing a food demo. They did the Lady's cheesy mac and Not yo' mama's banana pudding. Both recipes were so yummy! Miss Paula raised some fine boys. They were so nice and down to earth...just like you'd expect southern boys to be. Sorry for the poor quality pictures. I'm really not liking my purse size camera very much. Cole dropped it a while back and ever since the pictures are not so good, but it works for things like this where I don't want to take my big camera. Paula cooks very much like I do...full of flavor, fat and butter, with no thought to calories. Life is too short not to enjoy food! :o)
I went to Scrapbooks Etc. this morning to get more clover green bazzill cardstock. Marty was nice and gave me 20% off, so now I can finish the other half of my cards. Cee...I was there just after 10:00 and you weren't there yet. I told Lesli to say hello and sorry I missed you.
I also went to the chiropractor. When I walked in she asked how I was doing and took one look at me and said "you need me". She was so right. I still have my headache, but I know when you have a headache that lasts over a week it's not going to go away just like that. Hopefully in the morning it will be gone.
Oh! For you Arizona girls...Knee shorts just opened a store here on Gilbert and Southern. I'm so excited! I've always had to order online since they only had Utah stores.
Didn't get ANY cards done today...oh well! There's just not enough hours in the day or tylenol in the cupboard. Tomorrow is another day! I won't be making my deadline, but I've come to grips with that. I'm no wonder woman...that's for darn sure...but it would be nice to look that good in the outfit! But hey...you can't cook like Paula Deen and expect to look like wonder woman, right?! :o)