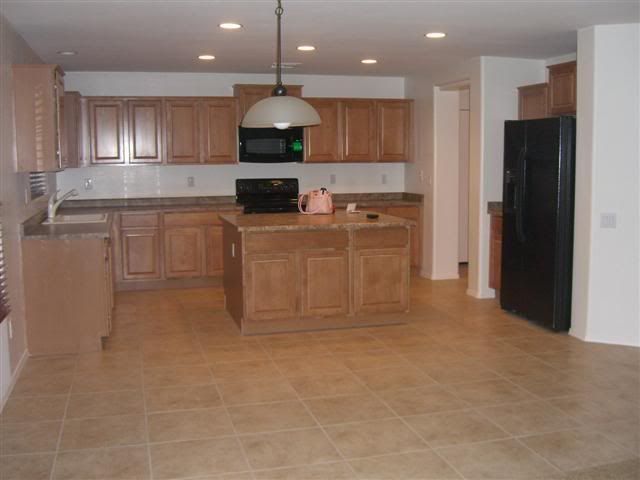 We have weighed many options and have decided on renting the house out in Maricopa. I feel at peace with that decision even though change is very hard for me. I forgot that I took a few pictures the first night we drove out there. Here is the kitchen and the loft, which would be my new scraproom. This one is big enough for me to share it with Mark's office and even have a TV up there for the boys to play video games or watch sports. Plus I can have people over to scrap. In my room now I only have room for 1 guest, so it will be fun to have a few at a time over. Here is a link to the
floorplan
so you can see the layout of the house. Here is also a link to a

virtual tour

. It doesn't show 2 of the bathrooms, the laundry room, the large pantry or the garage but you can see where they are on the floorplan link. This house is almost $1000 less a month than my house now. Wev'e discovered that it's much cheaper to live out of town. This will be a huge blessing to us. It's going to be strange living in a town that doesn't even have a Wal-Mart, but it does have 2 grocery stores and plenty of fast food places. Brek, Brittany and the babies were going to live with us again, but tonight they decided to live with her parents for 2 more months then get an apartment. I can't blame them for wanting a place of their own. So now the 3 boys will each have their own bedroom. They have never had this before so let me just say that they were SO excited at the thought of this. It was pretty cute!
Now to start packing. This is move #32 for me. It never gets any easier. In fact I think it gets harder because we have way more stuff. It's a bit overwhelming!