Friday night I fed about 45 hungry people here at Chad's farewell party. It was such a nice evening with family and good friends. Chad felt loved and we feel so appreciative of everyone who came on such short notice. My good friend Paula helped me out and made a batch of the frybread for me to help ease my burden. She saved me with that so people could eat as I was frying up the second batch. It worked out perfectly. I'm going to be honest and tell you my kitchen is still a mess. I was too tired to clean it up.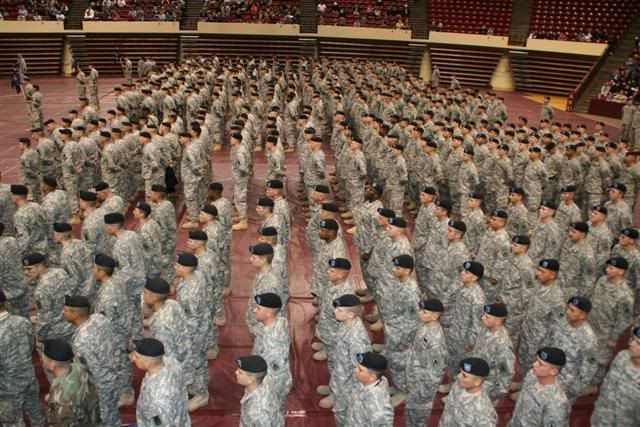 Mark woke up at 3:00 in the morning and took Chad to check in and came back to wake me and Sandy up at 4:00. I t was so hard to get up because I had a hard night and only got a couple of hours sleep. We got there around 5:00 and the ceremony started at 6:00. There were over 500 soldiers deployed,with lots of families to see them off.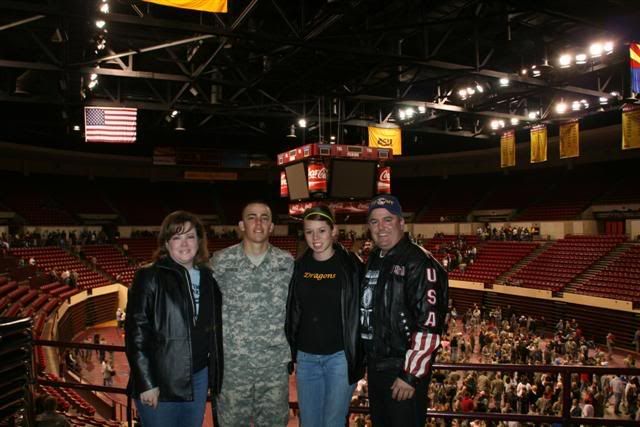 We had a stranger take this one of all of us after the ceremony. It's far away, but I'll crop it later.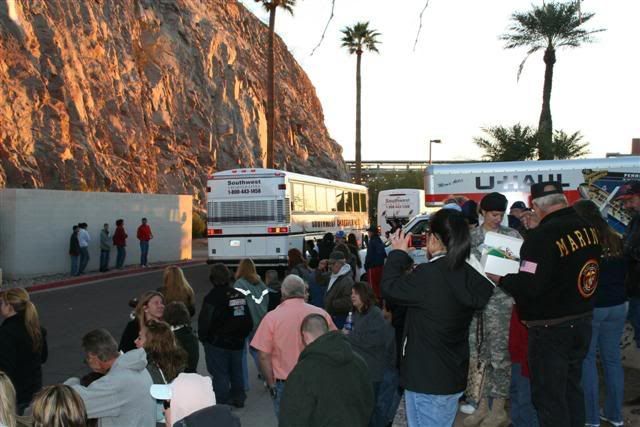 We got to spend about an hour with Chad before he left. Sandy and I had been crying off and on, but trying to keep a smile as much as we could. Chad did pretty well until I asked him how he was doing and what he was feeling. He got emotional, so of course I was crying again. I'm just so proud of him. The time passed quickly...too quickly. The busses were ready and so was the patriot guard ( probably 100 motorcycles with flags on the backs) who escort the busses to the airport. It was a really neat thing to see. Our final good-bye's before he left were the hardest. I held him tight and said I love you my boy. Sandy had her emotional good-bye and Mark hugged him and told him he loved him and to return with honor. When his bus pulled away my whole heart hurt more than I ever thought possible. It's been a really rough day. We came home and Sandy and I slept for several hours. When I woke up Brek and Brittany brought baby Mark over for me to take care of while they went on a date. We got to talk to Chad when he got there. He is settling in and doing good. Sandy cried pretty much all day. Chad asked me to take care of her...of course I will. I was strong while I talked on the phone to him, because I know that crying only makes it harder on him. I'm just exhausted...both physically and emotionally, but I know it will get better.