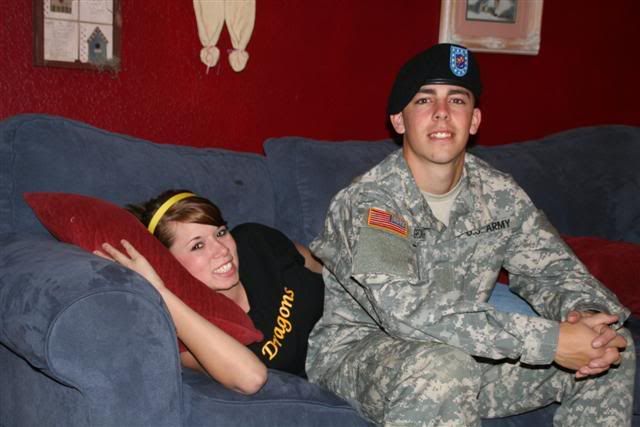 This picture has nothing to do with this post, but I didn't get to talk to Chad and I'm missing my boy, so I wanted to see his cute face. :o)
I was tagged by
Pam
and I'm suppose to tell you 5 surprising or secret things about me. I've done one of these before so I'll try not to repeat any of those answers. I'm still not exactly sure what I'm going to tell you because just like Pam, my life is an open book since I became a blogger, so here's hoping things come to me as I type....but more than likely the really good things will hit me while I'm sleeping
I have a real and genuine fear of death. I don't want to die. The mere thought of it gives me anxiety. I know things on the other side are wonderful, but I'm not done with this life yet and I don't want to miss any of it. I want to be the one to raise my boys, see my grandkids grow up, and grow old with Mark. It's not just me...I don't want any of my loved ones to die either. It's just to painful and my heart can't take it.

I consider myself a good safe driver, but with a few driving phobias of things like bridges, high freeway overpasses, being boxed in by semi trucks, construction zones where the cones are so close and I'm sure my big old suburban is going to knock out every sign. Mountain passes with cliffs next to me totally freak me out and I'm sure if I lived in the snow I would never drive in the winter.

When I got married almost 21 years ago, 1 week before I turned 18 I weighed a mere 105 pounds. Now 5 kids later, by body rebelled and I'm a whopping 175 pounds...down from 180 since I "released" those 5 pounds. Yes...I admit my true weight...every stinking pound. I never want to be the stick I was, but to be under the 150 would be great..I don't care if it's 149, just so when I go to the doctor I don't have to flick the thingie over on the scale to the next level. I hate that so much!

I have zero musical talent. I so wish I could sing and play piano. I use to sing in the car when my kids were little, but they would request that I not do that. I'm sure I'd be one of the rejects on American Idol with Simon saying "Jolene, you really didn't think you could sing did you because that was just awful" I envy those with beautiful singing voices...I know, I know...thou shalt not covet...so I will rephrase and say I really admire those who are musically gifted.

The first thing I think about every morning is my blog. I'm seriously addicted. After I go to the bathroom, wash my face and brush my teeth I have to come read comments and read the blogs of my buddies before I can do anything else. It will eat away at me if I have to leave the house early and I didn't have time to read....and to think I had to be talked into starting my blog almost a year ago by

Amy

and

September

. I get so much pleasure from it. It's emotional to me and I can't imagine not having this outlet and so many dear new friends. It's just a wonderful thing.
I'm tagging anyone who wants to share things about themselves on their blogs.

Now to the 911 part of the title...After I picked up Kyle from school today I took him to the new subway to turn in a job application in the grocery store plaza a mile from my house. Just before I was to where I needed to turn in I saw a white tahoe hit a boy on his bike and launch him into the main road. Thank heavens there were no cars coming at the time or he would have been run over too. The car was coming out of where I was going to be pulling in. The guy that hit him got out and pulled the bike out from under his car, patted the boy on the back as if to say are you okay...walk it off kind of attitude, then got back in his car and drove away. I couldn't believe it. I got his license plate number before he got out of sight. I pulled in and asked the boy if he was okay. He had a friend with him and he was walking his bike because it was not able to be ridden and he was clearly shaken up. He said he was fine and kept walking. I think that was the adrenalin talking and he is probably hurting pretty bad tonight. I called 911 and reported it because it's NOT okay to hit someone and leave...this is coming from a mother who has had 3 of her 5 boys hit by cars who also left the scene. Makes me so mad! I feel good about getting the plate number and I hope they find him and press charges. It scared the heck out of me!