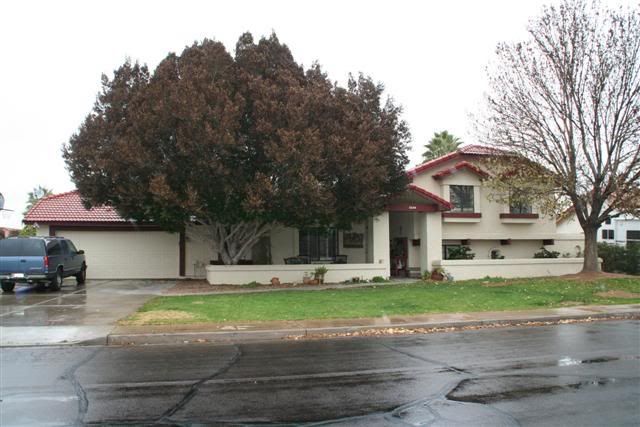 This weather has been so crazy. We had a hard freeze a few nights ago and every tree and plant we have are severely damaged. You can see the before and after in the color of my 2 big trees. They WERE a beautiful bright green, now they are black and brown....so ugly! The tree lover that I am is soooo sad about this. It's never happened before, so I don't know if they will come back or not, but they look just terrible...makes me sick!
Back in February of 2005 we had a huge amount of rain, which is really unusual for Arizona. My next door neighbor's cactus had taken on more than it could handle and fell over in the night. We herd the big thump. The next morning I had to take pictures. I had Chad stand next to it so you could get a better idea of just how huge this cactus was. I'm always amazed by the effects weather has on our life's. Some people lose their homes to weather, so I really shouldn't complain about trees, but I do love them so much!
Susie Q
posted pictures of Chad's care package on her blog. It's packed FULL of wonderful things he is sure to love. You'll have to scroll down a bit on her blog because she is a very busy blogger. :o) Then you'll HAVE to go check out
Andi's
M&M's! I can honestly say that this is the first time M&M's have brought me to tears....seriously...just so sweet! I really do have the dearest friends! Thanks you ladies!
I was reading
Heidi Swapps
blog this morning and had to giggle when I discovered that she is pregnant again with her 5th child. The reason I giggled is because Capri and baby Mark are only a few weeks apart in age and Heidi is due July 15th...Brittany is due July 18th. They are both having VERY close in age babies. I'm happy for her growing family. Stop by and congratulate her.
This feels so strange blogging in the afternoon instead of late at night, but I've got work to do then we're going out on a date with Mark's brother Rodney, his wife Cam, Brek and Brittany. Should be a fun night. I LOVE date night!
I just wrote this whole thing and blogger ate it and went down for a while...sheesh! Crossing my fingers this goes through when I click publish.