It's cold here....well cold for Arizona. Actually it's 33 degrees right now and suppose to get down to 26 or lower, so we had our first fire this winter. Ignore the mess please! Gathered around it is Cody, Cole, Sandy, Brittany and baby Mark. Every Sunday night we have all the kids over for dinner. We look forward to it every week. Since it is so cold, I made chili, chili dogs, corn bread and banana cream supreme pie. It hit the spot! They have all left and Mark is asleep. The little boys and their cousin are downstairs making paper cup towers. I know this because I just heard it come crashing down and by the sounds of it I think it was quite large. I'm so NOT cleaning that mess up. For some reason boys cannot be entertained unless there is some form of destruction involved....or is that just my kids???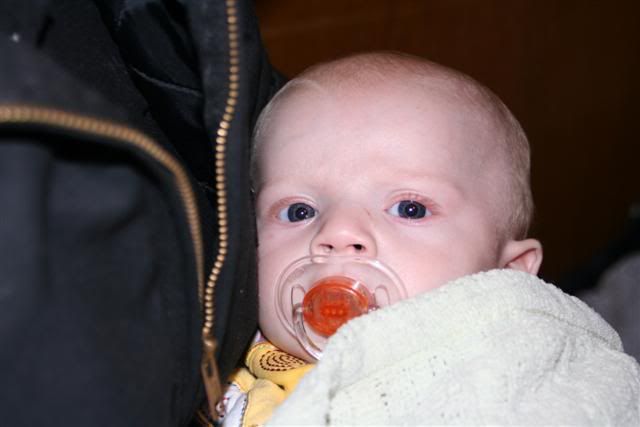 Mark and I had a great time playing with baby Mark up in our room while Brittany took a little nap by the fire. We just love this little boy to pieces. He's getting so much personality and it's so fun to watch him develop. Can you believe he's already 4 1/2 months old?!

How can you not love that face?!

Miss Sugar cracks me up. Here she is all stretched out on her back sleeping on Marks legs. She is the only one that will let you rub her tummy. She has the loudest purring motor, unlike momma kitty who NEVER purrs. I love my little princess. She's not the only one who got a nap...I had a great one today after church...by the way, I LOVE my new primary class...such great kids! I can honestly say that I love primary now...so fun! :o) Long nap=me not being able to go to sleep at a decent hour. Weird thing...came home from church today with the front door wide open....kind of creepy to me!
Saturday I had a photo shoot of Brittany's best friend Megan and her husband Joe. Meghan is pregnant and due this Friday. Poor girl just wants to have that baby already. It was freezing outside. I wore my slippers in an effort to keep warm. They were glad to get some pictures with her at her biggest.
You all have to go see what
Brooke
is sending to Chad. No words can express my appreciation of such wonderful generous new friends.
MLK day=no school for kids which=no peace for me....perhaps we'll bake cookies.