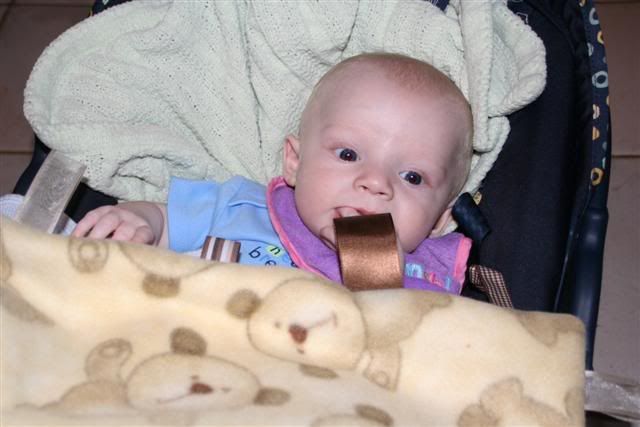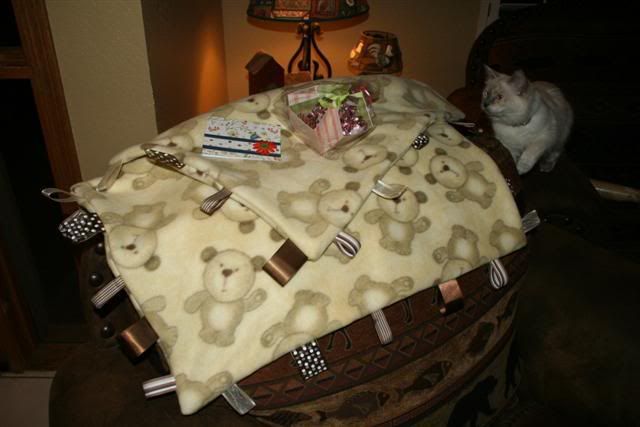 In the midst of all my sadness and turmoil, I received the sweetest package in the mail from
Briana

.
She made these adorable taggie blankets for baby Mark and his little brother or sister, and she made the cute little container filled with strawberry kisses, that I had never tried, but discovered that they are quite good, plus a beautiful handmade card. When I gave one of the blankets to baby Mark his eyes lit up and he started kicking and smiling. He loves it and so do I! I am truly touched and more appreciative than one could possible know. Thank you so much Briana! Brek and Brittany wanted me to pass on big thank you's from them too. :o)

I wish I had good news on the home front. Right now all I know for sure is that we have to move and soon, but to where is a whole other issue. We have a realtor friend that has a nice house we could rent, but the problem is that it's out in the town of Maricopa so Mark would have to commute in everyday. 45 minutes with good traffic and between 1 -1 1/2 hour in bad traffic. I understand that people commute all the time, but when you run a business like ours that has emergency calls all the time, that could be a lot of driving to and from town day or night and our only employee just quit and went back to school so we have no one in town to cover for Mark, so he has the whole burden on his shoulders. He already puts 150 miles a day on his van. Plus we would keep Kyle at his school so he can graduate, but that would mean that Mark would have to leave the house at 6:00 to get him to school on time. We still have that house option available to us, but been looking at houses here too, but haven't found anything that is big enough, in our price range, or isn't out of town the other direction. I'm still waiting on a clear answer to my prayers. I just want to feel some peace to know what is right. It's the worst feeling not knowing where home will be. I love my friends and my ward here. I love the schools and the boys have great friends. It's all just so hard.
On top of that I talked to Chad and he doesn't get the 2 week pass before leaving for Afghanistan. He will only get a 96 hour pass, but they really don't want the soldiers flying home. Last night I started bawling as soon as I found out he wasn't coming home. As it stands right now, Sandy will be flying out to Fort Bragg to see him. How on earth can I handle not seeing my boy for such a long time. I just don't know how much more I can take. I have cried for most of today too...still am in fact. I'm all for being tested with trials, but not so much into this whole bombarded with them. I feel like I keep getting knocked down before I even get a chance to stand all the way back up again. Not much of a fair fight in my eyes. I do know after I get through all of these trials, there must be some pretty big blessings at the end. Looking forward to sharing those with you. Your loving support and words of encouragement have meant the world to me. Thank you all!