***EDITED*** Sorry about blogger being down all morning and part of the afternoon. They had a two hour block scheduled for maintenance, but went way over. I hope you come back and comment.
I want to offer my most sincere thank you to all of you for your love and support. Your loving words of encouragement humbled me and brought me great joy. I was brought to tears by your kindness to me and my family during this difficult time. I really didn't want to share such un-flattering pictures, but they did capture the emotions and feelings we had and I always want to remember that day. I'm still struggling with my emotions. I broke down a few times in church and today as well. Chad does have more freedom at Fort Bragg than he had at Fort Benning, so I've been able to talk to him at night during his free time...for now anyways. Right now he is also struggling with his emotions. During our two weeks together he got use to being home with his family, so leaving again is very painful for him. He knows he has a job to do and just hopes time passes quickly so he can return home to us and to Sandy. I hope for the very same thing. The selfish protective mom wants him home right now. It's just too hard. I wanted to share Chad's mailing address in case any of you would like to write him. Happy mail is such an important thing to keep him motivated and I know he would LOVE to receive mail and it would mean a lot to me as well.
PVT George, Chad
2125 GSU-Delta Co.
1-158 Inf. Azarng
3238 Butner Road
Fort Bragg, NC 28310
Thanks in advance to anyone who does choose to write my son.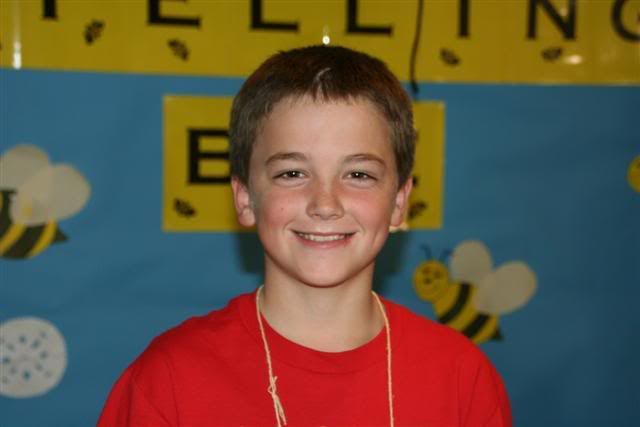 I didn't have time to post about this before now, but I didn't want to forget. Cole was in his schools spelling bee on Friday. He didn't win, but he did great and his good friend Jason did win so we were very happy for him. Cole won in his class so he got to compete. They chose the top 2 kids in each class from 4th, 5th and 6th grades. He's in 4th grade. I'm so proud of him.
Thanks again for everything. I sure love you gals!
I was just catching up on my blog reading and I see that some of you dear blogging buddies are organizing a monthly care package to send to Chad. Now I'm crying all over again, but they are happy tears because of the love you have for me and my family. I can totally see the look on Chad's face each month as he opens a package from people who believe in what he's doing and want to make his time there just a little bit easier. He will have the biggest smile. My heart is so full tonight and I am deeply grateful. Thank you so much!