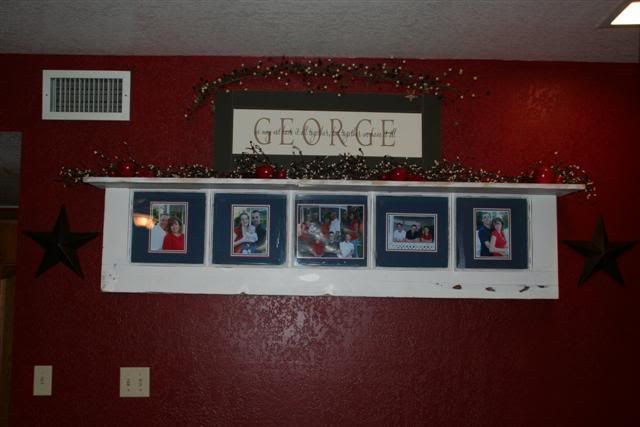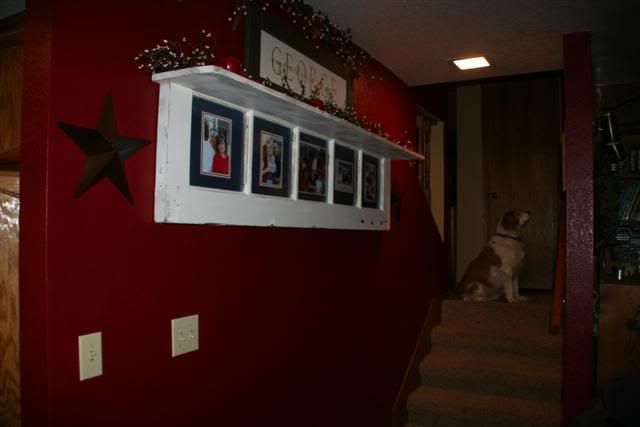 I finally finished my altered family picture wall. I ran out of printer ink and had to run to Wal-Mart to get more so I could print the pictures. I never leave the house without makeup, but I thought I could run in and out quick and no one would see me, but NOPE! I ran into a girl I haven't seen in a long time...perfect! ...sigh...oh well...
Anyways, I printed and matted the pictures in red, white and blue then cut them down to size so they would fit in the window panes. (11X11) I also decided to flip the whole thing upside down because it's hanging in a spot right off the stairs and I was tired of Mark saying
"someone's going to put an eye out on that thing"
So we removed and flipped the hardware and re-hung it. Now you can walk downstairs with out the fear of losing an eye. I know it looks crooked in the picture, but it's straight, I swear! I also don't know why the pictures are so dark. It really looks so much better in person. In the first pane it's me and Mark, then Brek, Brittany and baby Mark, then the whole family, then Kyle, Cody and Cole, then Chad and Sandy. I also hung 2 rustic stars on each side that I got on clearance the day after Christmas....so dang cute! I love it!
Now about American Idol....Oh my crud! It's both hilarious and painful to watch. I laughed so hard the past 2 nights that my face hurts. I don't know about you, but I wish I could do that cowardly lion thing that girl did on Tuesday night....it was just too funny!