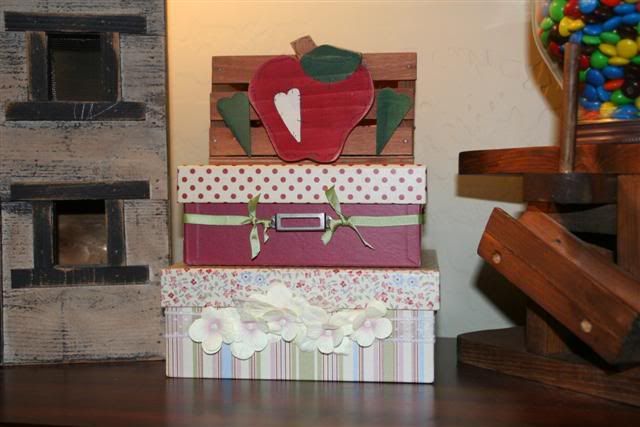 I got these two little making memories boxes on clearance at Target several months ago. Today I finally embellished them. I put my new bazzill bling blossoms in the bottom one and haven't decided what to put in the top one yet, but they sure are cute! I put the little apple crate on top just because I liked it. Looks pretty darn cute on my little bookcase.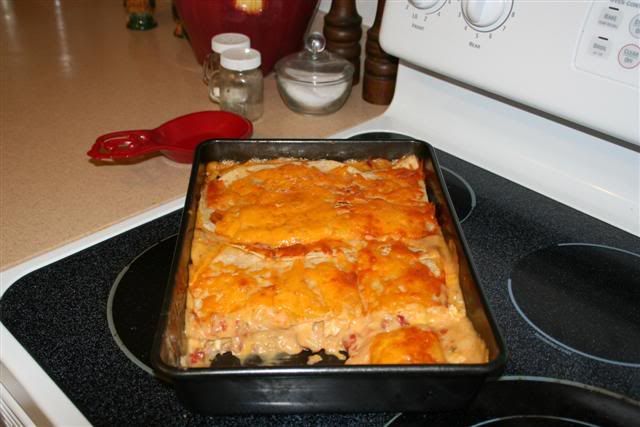 If you're looking for a quick and easy meal to make for dinner I tried this recipe of Paula Deen's tonight. It's called mexican chicken. Here is the
recipe
if you want to try it. The only thing I did different is add one more can of cream of chicken because I like it really creamy and it asked for 1 can of diced tomatoes. I accidental put in a can of tomatoes with mild green chili's. It worked out okay and just gave it more of a mexican flavor. I wouldn't put this on the top of my list for most favorite recipes, but it was good and fast.
As you all know I'm so dang excited about National Scrapbook Day this coming Saturday, so I decided to share my excitement with all of you by having a giveaway. I ALMOST didn't part with this because it's really a great thing and I like it very much, so surely lots of you would enjoy it too. This little beauty comes with 40 spools of ribbon. Each spool has 4 yards with a grand total of 480 feet of pretty ribbon. Now that is ALOT of ribbon by golly! Even if you don't scrapbook, this ribbon can be used for many other things. If you would like to be in the drawing, just leave me a comment and I will have a boy choose a winner on Thursday night...and YES! lurkers are always welcome to comment on my blog anytime! It's all so pretty...you know you want it! :o)
Good luck ladies!
P.S. I got the pink purse and matching wallet at park and swap in East Mesa on Baseline and Signal Butte. They were very affordable! I don't buy expensive purses.
P.S.S. Did you know that you can click on the individual pictures in my slide thingies on my side bar and see them full size? I didn't until today...so stinking cool!