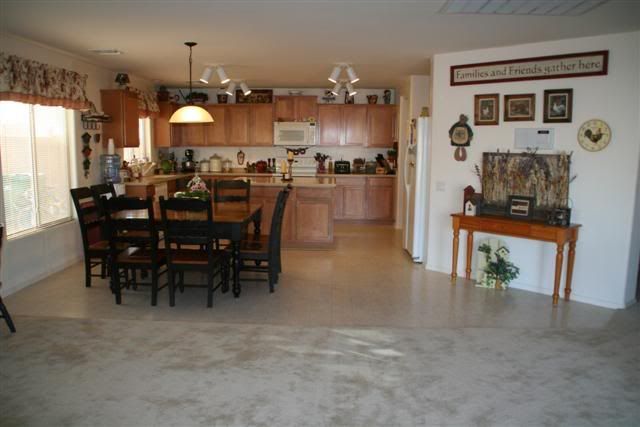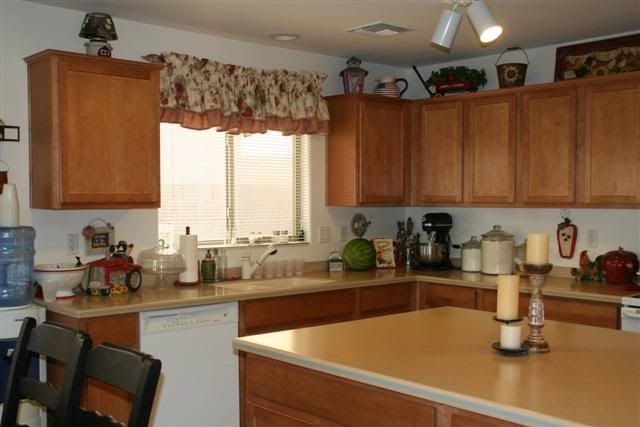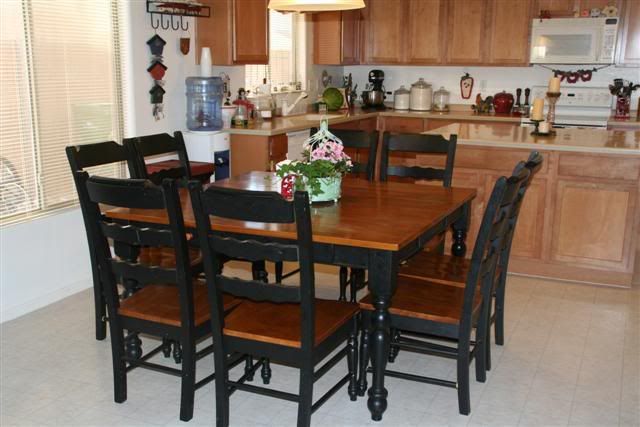 I guess it's time to share another room of my house. I really like this kitchen. I serve buffet style alot so the big island help with that. I know most people like their counter tops clear of clutter, but I don't. I like them full of things I use most often and with cute things that are there just to make me happy. There is good and bad clutter. In my mind this is good clutter. These pictures were taken 2 days ago, so obviously it's not that clean anymore. It gets dirty quick around here. Mark usually cooks breakfast for the boys, then Brittany cooked breakfast for her and Brek. Plus I brought home groceries last night and not quite everything got put away. Speaking of groceries, Brek and Brittany came home last night and said they found an apartment and are moving out tomorrow. They are so excited! I had agreed that when they moved out I would buy their first groceries since those are the most expensive to get because you need all the staples. I'm kind of sad about them leaving...especially so soon. I know they need to be on their own so they can grow and learn. I will so miss seeing my baby guy everyday....sigh...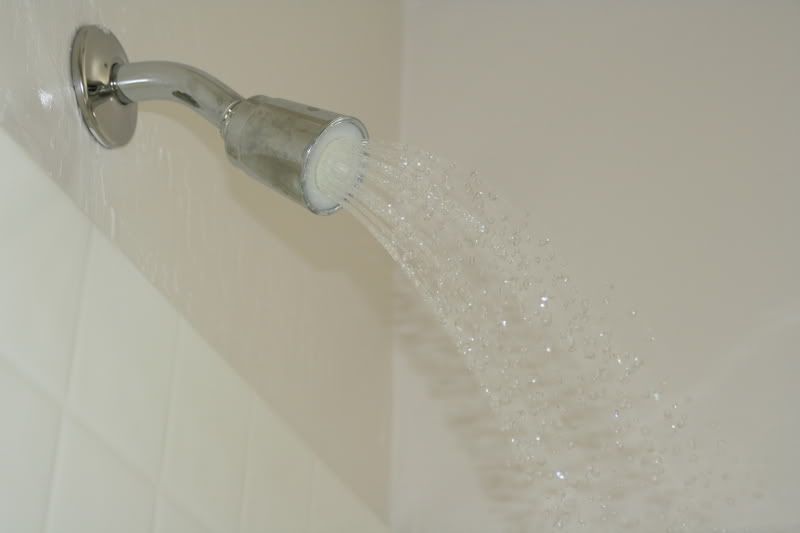 Do you see my problem? Notice how the water in my shower doesn't spray out with an invigorating force...it merely falls out because gravity tells it it has to. I hate my shower. I hate everything about it. It makes me crazy that it takes forever to get shampoo out of my hair and soap off my body, but I also can't stand the fact that it's a tiny square glass cubical. I can see my self in the mirror while I shower (gross), there is nowhere to prop my foot to shave my legs and I have to squeegee the walls before I get out so that we don't get water stains. For me showers are anything but enjoyable. I've decided to take matters into my own hands. I've bought a new shower head and plan on installing it. I was tempted to get something that resembled the elephant shower head from that Seinfeld episode where they had installed low flow shower heads in the whole building and everyone had flat crappy hair, but I didn't. I got something more practical and it better work. Should I actually get this thing up and working I'll let you know. :o)


Graduation season is here. I made 26 announcements for our friends Nick's son. I went over last week and took pictures of him, got them done on Monday and delivered them yesterday. Isn't he a cute boy?! Next I'm making Kyle's, then Sandy's then possibly some for my cousin's son Nic. I had to do Kirk's first because he graduates the week before Kyle and Sandy. I decided that since I have to make so many that I would do a simple long single panel that would be faster for me to assembly line and would still be cute enough. The others will be the same basic design, but in their school colors, plus I have to squeeze in information about the party here the following night. My friend Cathy made the most darling ones for her son. They look like the graduation cap. I love how it turned out...really cute!
I have LOTS to do this mothers day weekend before my whole family comes over for dinner Sunday night...lots more than I'd like to do, but sometimes we just don't have a choice, huh?!