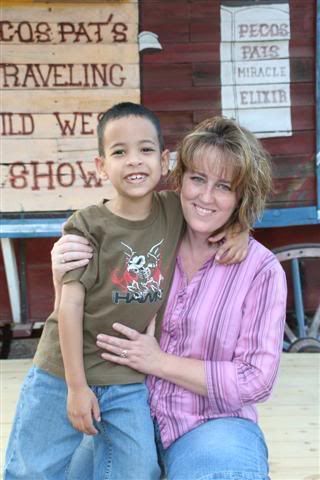 This weekend we celebrated my nephew Kaden's 6th birthday. We all went to Rockin' R Ranch for dinner and the show.

Me and my honey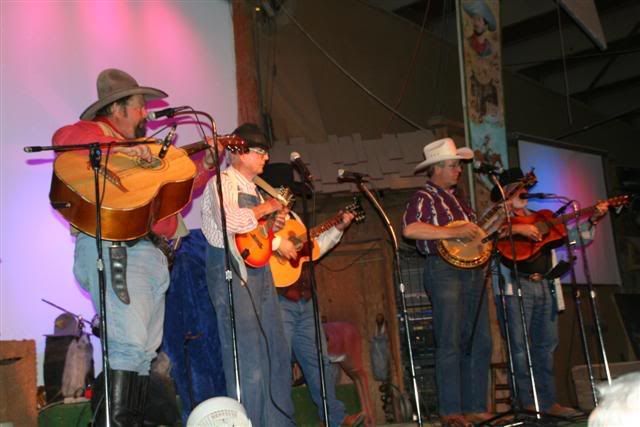 The entertainment was pretty good. It's nice to hear music that is almost forgotten. These guys were very talented.

Kaden got to go up on stage and so did his grandparents (on Eric's side) because it was their anniversary. Kaden is on the far right and Lavern and Raymond are on the far left. The inside pictures are dark...sorry!
When you go there you, before dinner you can pan for gold, go on a hayride, watch the medicine show, shop in the cute little stores, target shoot, etc. Then you eat a real cowboy dinner that's pretty good. After dinner they have the show, then you go outside for a old west gunfight. It's kind of expensive at $25 per person, but I tried thinking of it as dinner and a movie, so that the price didn't hurt so bad.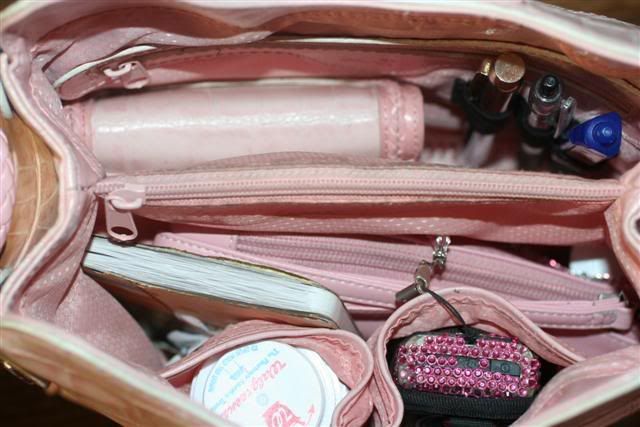 Sweet
Telah
purse tagged me and I'm suppose to show you my purse. So here you have it...my cute pink purse and the inside too. Contents are my pink wallet, a pink comb, my pink cell phone, 3 pens, sun glasses, a cute little notebook
Amy
made me, a pink making memories zipper bag that I keep lipstick, chap stick, lip gloss and eye drops in. I also have Excedrin tension headache, ibuprofen, and for some reason I still have penicillin in there from my tooth ache. Apparently I didn't take the whole prescription...oops! Do people ever really finish the whole bottle? So are any of you willing to show me your purse? :o)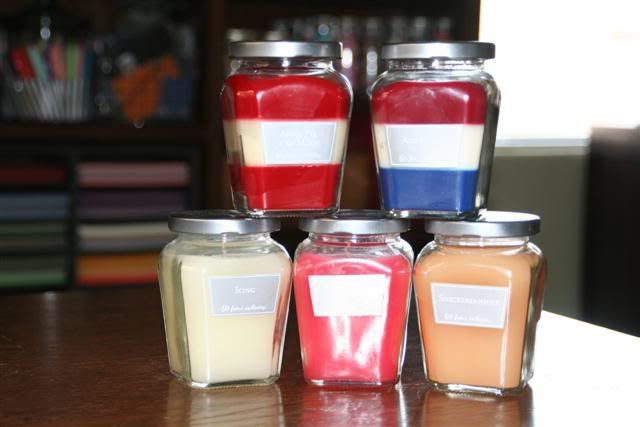 Look at these beautiful candles! I got these in the mail this weekend from
Cindi
. I was the very lucky winner on her blog. How generous is this prize?! I got strawberry shortcake, apple pie ala mode, snicker doodle, americana and icing. They all smell wonderful and I love them! Thank you so much Sweet Cindi!
National Scrapbook Day is this Saturday May 5th, so of course I HAVE to scrap! Isn't it a law or something?! I plan on having my sisters over and I think one other girl. We are going to scrapbook ALL day. I'm so excited! I'm thinking that this week I will print some pictures and get somewhat of an idea of how many layouts I want to work on so that I'm more productive on Saturday. I'll make some yummy treats and get a BIG pepsi to keep me going. So do any of you have scrapping plans this weekend? Share your plans with me. I want to hear all about it.