While I was in town today running errands at Home Depot and Sam's Club I decided to fill up my suburban...which mind you, I still had a half a tank, but I don't like it to get low. It still took $70.00 just to top it off! How crazy is that?! I saw this little car a few weeks ago and had to laugh as I took a picture of it. With gas prices they way they are, don't you wish we could just wind up our cars like the little toy ones and completely cut out the big oil companies who are raking us over the coals and doing all the ridiculous price gouging?!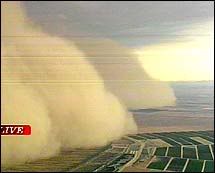 As I was filling up with gas Mark called me and asked if it was dusty where I was and I told him no, we had blue skies. Then I turned around and saw the big wall of dust rolling across town. Usually when these things come through I'm safe and sound at home, but me and Kyle had to drive straight into it. In between the city and my town we have to drive through 16 miles of desert to get home. While we were on that stretch of highway it was so thick and dark, I could only see the tail lights of the car in front of me. We thought it was pretty cool, but other drivers disagreed and there were several accidents on that highway. I'm glad we got home safely and although it was very cool to see, I prefer to be home when these things come through town.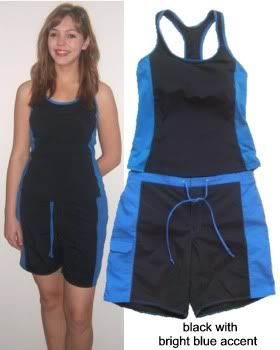 Summer is here in Arizona and it's already hotter that heck, so I thought I'd share this little find with you. I'm finally found the perfect swimsuit for less than perfect bodies and I'm going to buy it from
kneeshorts.com
. For one, it's reasonably priced at $39.99 and because it's supportive and modest. Let's just be painfully honest here. I've given birth to 5 children, I cook and eat like Paula Deen, and don't exercise enough and it shows. There is no stinkin' way I'm going to prance around in a suit with my cheeks hanging out. I don't know about any of you other "fluffy" sized women, but the cellulite ripples are not only on my hiney...they roll right on down the legs as well. I don't care who you are...that's just UGLY! We won't even talk about tummies except if it's chunky like mine...cover it up! For the love of all things good and decent, please don't run around with it all hanging out for the world to see. That's all I've got to say about that. Now I can go to the water parks with my boys and not be completely embarrassed...well except for the fact that I have glowing white legs that resemble a plucked chicken, but that's nothing tan in a can can't fix, right?!
P.S. Thank you Andi and Susie Q for sending me the link to help Cole with his magazine report. It was a huge hit at school and he says he really likes you girls. That's a two thumbs up from a happy 10 year old boy!
I'm shutting down my computer for the night. It's faking sick and running slower than tar going up hill on a cold winters day...yada yada yada...It better be running speedy quick in the morning.