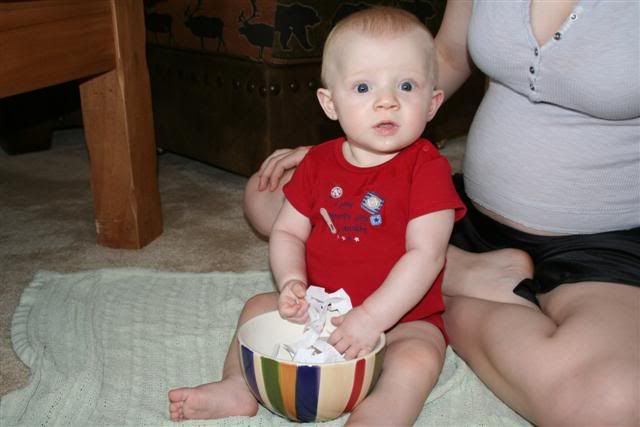 "What do you mean I can only pick ONE winner? I want them ALL to win!"
"Okay....I pick VALERIE...and she tastes good too!"
Oh, thank you baby Mark for your help with the drawing since all the big boys were gone and thank you to all of you girls who showed me that you do indeed know how to comment. It was so nice to see so many new faces as well as my familiar friends. I loved reading all of them. It's pretty fun so I hope you all keep it up! Congratulations Valerie...enjoy your new ribbon. I will get it in the mail on Monday. :o)
I pulled dang near everything out of my scrapbook room closet today. In the process I made the BIGGEST mess in my scraproom. At one point I was so full of regret as I thought to myself "what were you thinking" There wasn't even room to walk. I went through a bunch of boxes, built a bookcase and cut and installed peg board. Then I hung up my supplies for my personal little "store" and loaded back in as much stuff as would fit.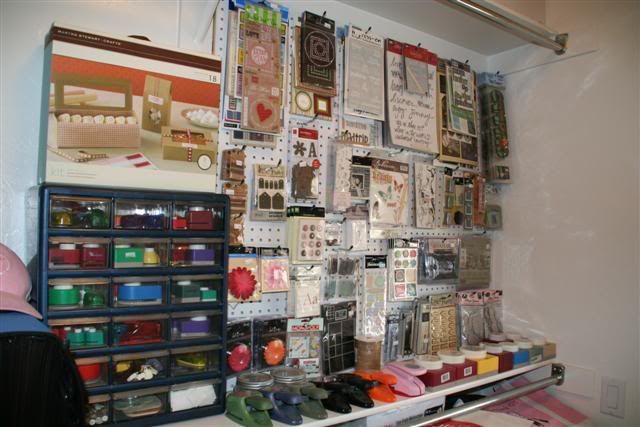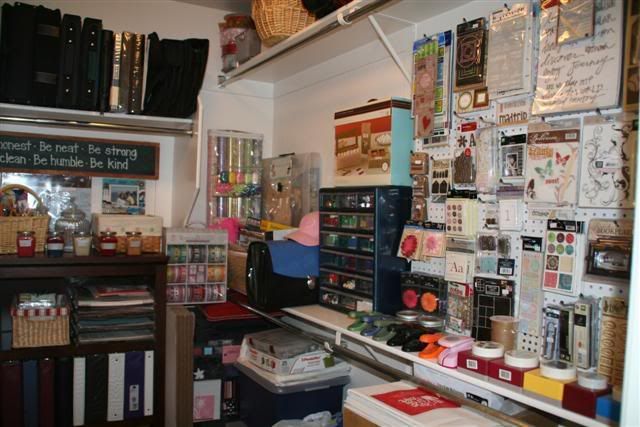 It's not perfect, but it's way more organized. I know what I have and where to find it, so I love it! Plus now my scraproom is spotless and ready to make some creative messes tomorrow for National scrapbook day. I'm so excited, yet very tired. I better get some good sleep tonight. I'm pooped!
***Very exciting news!***
MY scrapbook room is going to be published in a book called Organized Spaces for Papercrafters. How cool is THAT?! I've never submitted layouts for publising because I do that for fun and for my family, plus I'm not quite good enough for that, but my scrapbook room is something I LOVE and have put a lot of thought and organization into, so I am beyond honored to be asked to do this. I still need to send her the pictures. Will do that this weekend. The book is due out in September. :o)