I hope that all you lovely ladies had a wonderful mother's day. Mine turned out pretty nice. Every year I ask for peace in my home, but all these years I've never got that, so I quit asking...that way I can't be disappointed when all heck breaks loose like it normally does. :o) Check out all that fun pink stuff. You'd think I like pink or something. Kitchen aid came out with a line of the most adorable pink things to support breast cancer awareness. I have a little obsession with kitchen gadgets and these are are beautiful! The cookie sheets aren't pink but they are so neat. I love the way they were designed so the cookies can slide right off. I need to do some baking and try these babies out! Mark even got me a new pink cell phone and case....so cute! My pink bling phone is in pretty bad shape. I don't know if I mentioned this before, but when we were moving here someone left it sitting on the edge of the trailer and drove off. Okay...it was me, but we're not pointing any fingers. It fell off in the middle of Gilbert Road and there it sat until the next morning when Mark found it for me. It still worked, but looked just terrible. Now if I can only figure out how to use the new one. I'm sad that it doesn't have my rooster ring tone. Hopefully I'll find one I like.
Mirror mirror on the wall...who's the fairest one of all?
"It sure isn't you honey"
Kyle got me this great mirror for my bathroom that lights up and has one heck of a magnifier. Let me just say that this thing is a real eye opener. Normally when you get ready for the day you are standing a couple of feet away from the mirror and you really have no idea just how bad you really look. This baby unleashed all the secrets the big bathroom mirror has been keeping. I see every pore, wrinkle, age spot, pimple, dry flakes of skin, hair where hair shouldn't be. There are NO MORE secrets! The ugly truth is out and I am losing this aging battle. I quickly realized that I don't take good enough care of my face. That will change. I love Kyle's gift. Not only because it was thoughtful, but because it's very useful for getting ready and it was a much needed close up of what's happening to me as I get older. Isn't there some super hero quote about "knowing is half the battle"? That's how I feel. Now that I know, I will do better.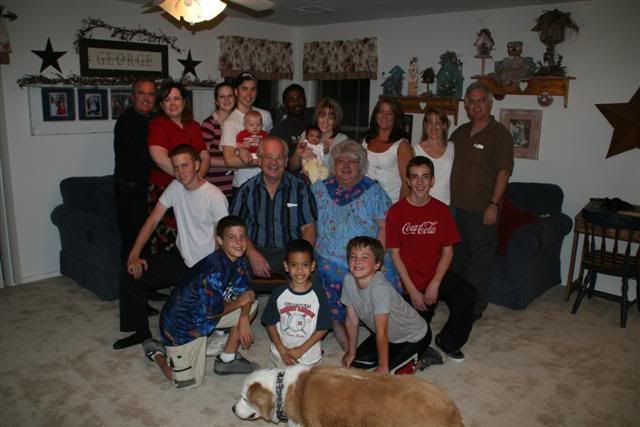 After church my side of the family came over for a big mexican feast. We all ate too much and enjoyed each other's company. We got a quick group shot, but it was dark and far away, plus several people were not here tonight. Mark went over to see his mom this morning to wish her a happy mothers day. We were hoping they could come over for dinner but his dad just had his second hip replaced and needed his rest. I want to let my mother and my mother in law know that I love them both dearly. I love my mother for giving me such wonderful memories of my childhood. She's always been creative and fun. She is a mom that built a way cool for her me because she knew I needed to have a place to escape and be alone. She was always there for me and still is. She is supportive of me and loves me unconditionally. Mark's mom Sharon is a special woman who loves people and once she meets someone she rarely forgets a name. She is so smart and very sweet. I don't know anyone who doesn't love her instantly. I love that she raised Mark to be the good man that he is for my family. We count our blessing that we were given such great parents.
Coleen got a new 6 week old foster baby named Maryella. Don't let the blue blanket fool you. She was borrowing Mark's. She really is beautiful. Miss sweet baby Angelic was returned to her birth mother and we hope for the best with her. Se is missed by all of us. Maryella has a 1 and 2 year old brothers that are suppose to be coming to Coleen's house too, but the mother is hiding them somewhere. All of the kids have been exposed to crystal meth and really need a safe home to live in until the mother can get her life back of track. I hope the authorities can find these boys soon. I'm so worried about them.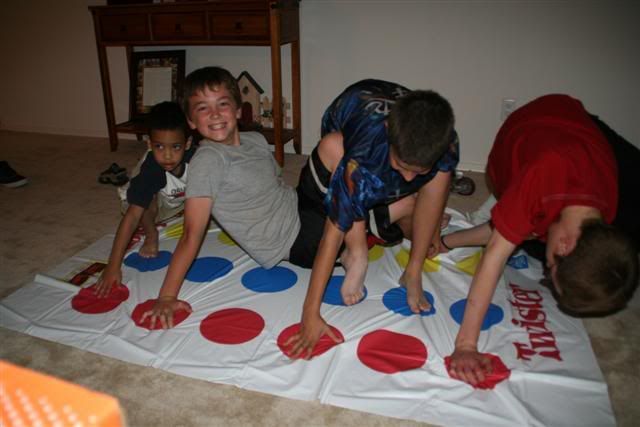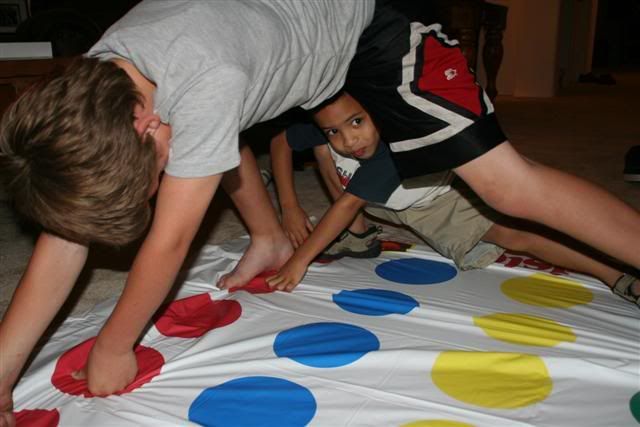 The younger boys played several games of twister tonight. They had so much fun. I was so surprised that Kaden knew how to play and actually did really well. He even won once and was so excited about that.
To my surprise, Kim spotlighted my blog on the
Creative Blogs Blog
. What an honor that is to me. You'll have to go check it out. It honestly got me all misty eyed that she selected my blog...especially on mothers day. She really "gets" how important family is to me and appreciates my love for organization. :o) In case you don't know what that blog is about. She pickes a different blog to spotlight each day. There are been some really amazing and talented ladies who have come before me so it is wonderful to be counted among them. She has links to all of them as well. Thanks so much Kim...such a treat for me...and you're right...we would be friends. :o)