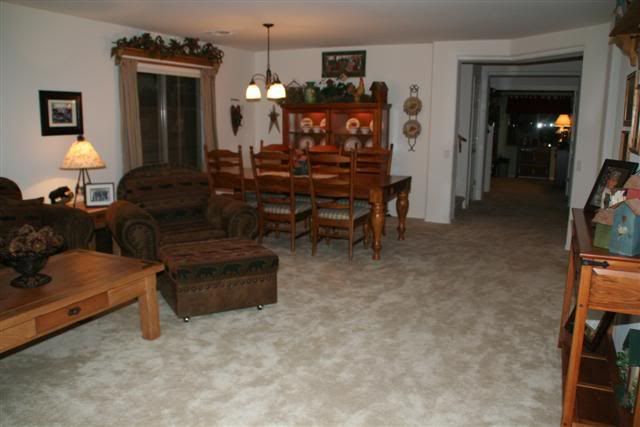 Here are a few pictures from the living room and the formal dining room...okay, so it's not that formal. I am not a formal kind of girl. I prefer comfy cozy instead. I haven't painted the walls yet, so they are still the icky flat builders white that's impossible to keep clean. I WILL paint when I have money and time to do so. For now I decided to put things on the walls because I was sick of looking at bare walls. I really should have taken the pictures during the day, but night pictures are better than nothing, right.
You girls were all too kind with your compliments about my scrapbook room. That makes me feel good that you all like it. I'm a nice girl who shares, so I'd be willing to have scrapping buddies. :o) To answer the question about my twirly rack, it's just a spice rack I got at Sam's Club a while back. They don't have them anymore. I've had other people ask me about it and I found them several on ebay. I just checked and there aren't any right now, but Sam's Club and Costco usually always come out with a cute one that would work for you. To answer the other question about the "store" in my closet. It's not really a store since I don't sell stuff. In my old scraproom I had installed peg board and pegs to hang up and organize some of my supplies. It made it much easier to find what I was looking for..plus it was fun to look at, so I plan to do that in this closet too. I'll share pictures when I do it.
Now onto Chad. I haven't heard from my boy since the afternoon of March 28th. At that point he was in a town in Afghanistan. He said they were getting their ammo to load their guns before they boarded the plane to head to Farrah, which is where his base is. That is NOT the thing a mom wants to hear...let alone being the last thing I heard from him. We have an 11 and 1/2 hours time difference. I keep hoping and praying that he will check in so that we know he is safe and got to his base. My stomach hurts more with every day that passes. I don't know if that's normal procedure, but I don't think knowing he is okay is too much to ask.
His address there is:
Chad George
PRT - FARAH
APO AE 09354
I'm sure he would love any mail, whether it's letters, cards, or care packages. I would suggest sending mail priority because otherwise it takes forever. Please keep him and the other soldiers in your prayers. Thanks dear friends and family!