I've been tagged by
Amy
and
Vida
. Each player starts with 7 random facts/habits about themselves. People who are tagged need to blog about their seven things and post the rules as well . At the end of your blog, you need to choose 7 people to get tagged and list their names. Don't forget to leave them a comment telling them that they have been tagged and to read your blog. I have done a couple of these in the past so I'm really running out of things to tell you since my life is an open book...or maybe I just can't think of new things. I'll probably think of great things tomorrow, but for now here's what I came up with.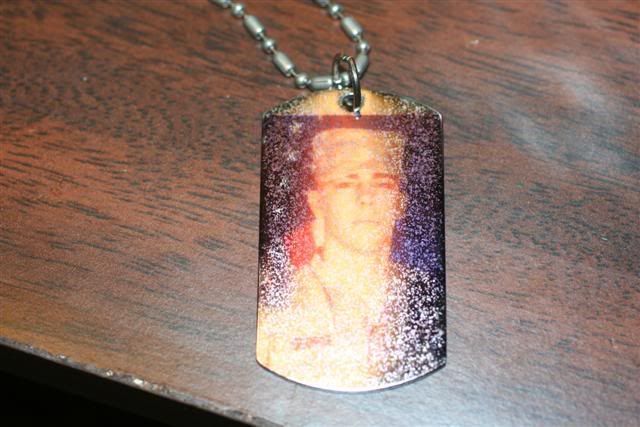 1. Chad had this dog tag made for me when I went to see him just before he left for Afghanistan. It's really hard to see it in the picture, but he looks very handsome. He had it inscribed on the back. It says "Mom, Forever grateful for your guidance and protection. I love you! Your loving son. Chad" This little dog tag is very special to me. I've worn it every single day and I will continue to wear until he returns home.
2.I collect salt and pepper shakers, barns, birdhouses, roosters, bears, and all things rustic country cute.
3. I read all magazines back to front. Not sure why, but I do.
4. Three things that get on my nerves to the point of making my heart race with anxiety is loud gum chewing-popping...the sound just grosses me out. 2 is snoring (even though I snore myself) When I was young I would put a pile of stuff next to my bed so I could throw shoes at my sisters when they would snore. That way I didn't have to get out of bed...mean girl, huh?! The 3rd is music that is so loud you can feel it. You know...that BOOM BOOM from the car next to you with the idiot teenage driver who clearly must have lost his hearing.
5. I LOVE to plan and throw parties. Big ones, small ones...it doesn't matter. I love the whole process, from planning the menu, buying the groceries, making food, invitations, setting up, decorating, party favors, games, visiting with friends and family, EVERYTHING...okay, not everything. I don't care much for the clean up, but the rest is great!
6. I really enjoy my alone time. I need it. Even when I was little I would create little forts and hideouts so that I would have a place to go and just be alone with my thoughts. Don't get me wrong, I am very social and love to be with people, but I think it's good for me to have my ME time too.
7. When I was little my bishop nicknamed me Jose' Manaise. Not like mayonnaise...it sounds more like "man eyes". Don't know why, but my dad still calls me that some times..as well as Jo-Jo. My grandma gave each of us girls nicknames. My sisters got cute little names like Precious, Teeny Tiny, Jewels, Grandma's Sweetheart. I got Cricket... you read that right. CRICKET! Yep...I'm a bug! What's up with that?!:o)
Now I need to tag 7 people. I'm a bit behind on my blog reading so I don't know whose already been tagged, so I will choose Elisha, Nikki, Valerie, Melissa, Briana, Wendy, & Tiara. I have a HUGE list of blogs I read and I really hate leaving people out, so anyone else that would like to do it, I would LOVE to hear your answers. If you decide to do it, tell me that you are in the comments so I can go to your blog and read your answers. It's fun getting to know you all better.
Before I go, I have to mention that American Idol this week was wonderful...until the end. Am I the only one who thinks that was VERY mean to do to Jordin Sparks? She is so great and I believe she could win. I think they did it to her for the biggest shock value. Ticked me off though....Okay, done venting. Those of you that don't give a flying leap about AI, just ignore this whole last paragraph. :o)