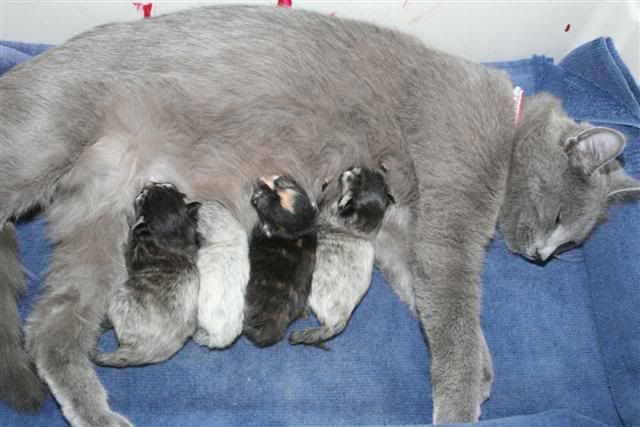 Don't get the cat fixed when he asked you to and have momma kitty pop out another bunch of cute kittens....oops! He is seriously not a happy camper about this one and it is my fault because I didn't get her into the vet. Well it's her fault too because she kept escaping and being the floozy of the neighborhood. They really are cool looking kitties though. That's not blood on the kennel. Remember when Cole spilled the can of red paint? Apparently that was an object in it's path.
Last night I went to a way fun candy making class and believe me when I say that I was on a chocolate high. Everything was so good and I got to meet some girls from my new ward. It was a lot of fun. Brittany called me there and said kittens were coming, so I came home and my closet was set up as the delivery room. After all the babies were born we moved them to the nursery in Brek and Brittany's closet so that I could take a bath. Apparently I was very tired because that bath sucked the life out of me and I didn't even have the strength to dry my hair, so you can imagine how bad my hair looked this morning...you guessed it...Medusa (sp?) I'm pretty sure I'd have to kill anyone who saw me that way. Perhaps that was what her problem was. She was just embarrassed and killed people so they couldn't tell anyone how terrible she looked. It was self preservation. :o)
Gotta run...going to town. Lots to do today.