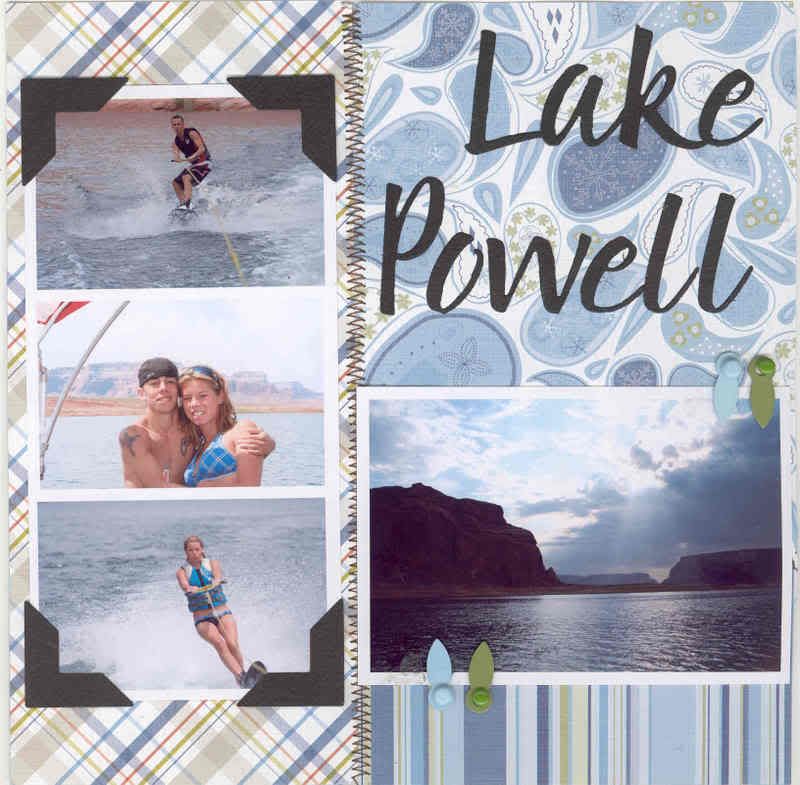 Sorry I haven't updated...one word...cramps...enough said!
Mark is out riding with his biker dude friends tonight. He's been working so hard lately, he really loves his riding time when he can get it. While he's gone the good mom that I am threw easy peasy pot pies in the oven and decided to make another 2 page layout for Chad's album. (I only do 2 page layouts) I love the colors of this one....so pretty! I caved and used my favorite Chatterbox paper again....but in my defense those pictures were crying out for some chatterbox. It's simple because Chad cares more about pictures than the frilly stuff so I just ran a quick zigzag stitch along the edges, used colored photo turns, brads, paper corners, stapled on ribbon and used the Emily QK font for Lake Powell.
Tomorrow (Friday) is the
CK scrapbook convention
in Mesa, so I'm heading to town to soak up all the beauty in the vendor fair. I've been so busy with the move I haven't even stepped foot in a scrapbook store for a few months. I'm starting to go through some serious withdrawals. I use to go to
Scrapbooks Etc
a couple times a week. I was lucky enough to live just down the street from it. Oh how I miss that store and all the sweet ladies who work there. I will be stopping by there as well. Seeing all the pretty new things will get my creative juices flowing. I can hardly wait! I'm thinking I will take my little camera. Full review on my next blog post.
Leah's
and
Briana's
recent blog posts named MY blog as one of their top 5 favorite blogs. Words cannot express what an honor that is to me. I'm still amazed that people read it let alone consider it a favorite....very humbling and touching. I'm suppose to pick my top 5 blogs, but not tonight...very soon. It's HARD!