I had so much fun shopping the vendor fair even though I was by myself and I was there for a short time...only because I ran out of money very quickly. Mark was generous and gave me all his money from cash jobs. I didn't even look at half of the booths. I've been so many years in a row, that I pretty much know what I'm looking for before I get there. As you all know I have a weakness for flowers so I had to get the bazzill bling blossoms. I also got the Autumn Leaves build a flower acrylic stamp set, an acrylic block, Technique Tuesday chipboard circles and circle frames, basic grey file set to file chipboard and stuff, way pretty charms from imaginisce, very cute ribbon, a ginormous letter "J" to alter, and a t-shirt that says "You better be nice or I will crop you out of my scrapbooks". I did get ONE more thing, but you'll have to wait a minute to see it.
After I was done I met Mark for lunch at Grandma's Kitchen in downtown Mesa. Really yummy! I love her dishes...totally reminds me of grandma's dishes.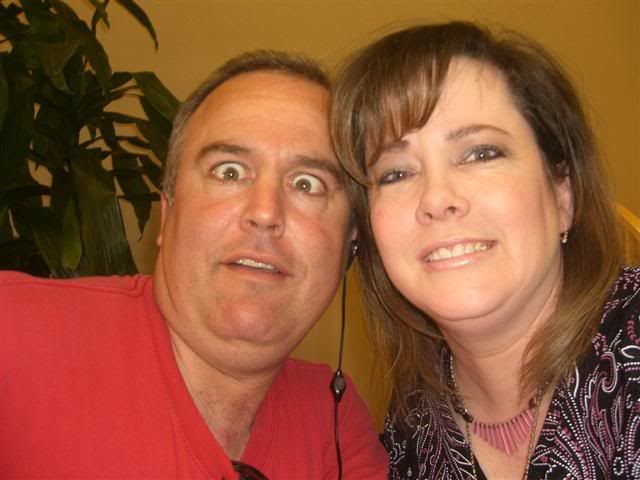 Ya'll know Mark doesn't cooperate for pictures. It's way too fun for him to be a goofball instead. Perhaps he doesn't know that I'm posting his goofiness here...hmmmm.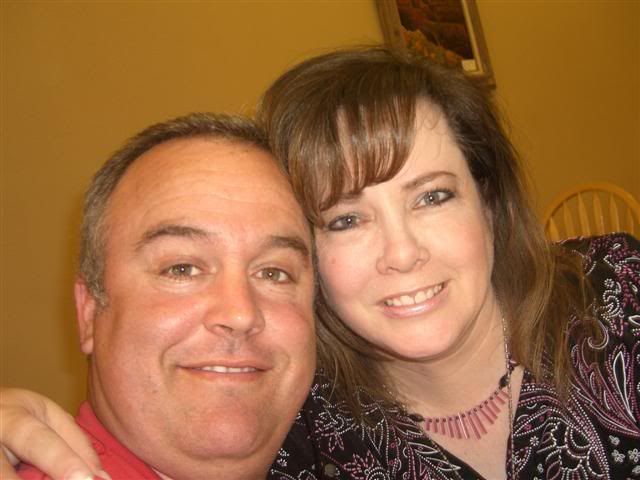 Yep...he's still being a dork. :o) You know how to get an instant face lift and look like you dropped 15 pounds? Hold the camera a little higher. Whala! Fat girl...skinny girl..no double chin... just like that! :o)
I bet you're curious what that last thing I got was, huh?!
look below
.
.
.
.
.
.
.
.
.
............
.......
...
.
I KNOW! Oh my gosh! The
Quickutz Silhouette!
I have such guilt and I'm scared to open the box. I haven't spent money on an anything fun in a long time because I'm on a shopping diet. Now that I got this out of my system, the diet is back on. This little baby can do so such fun things. I'm excited to learn how to use it...once I'm brave enough to open it. I did get an awesome deal on it and we are considering this my belated birthday present since I was out of town for my birthday and didn't get anything then. If any of you have this little beauty and have some helpful hints to share I would really appreciate it.
A few of the things in the first picture I got at Scrapbooks Etc. While I was there I ran into Tena Sprenger. We talked and caught up on each others lives for a little while. It was so nice to see her. I just love her! She was there to pull some paper aside for one of her classes before all the crazy convention shoppers bought it up.
Q&A
* The font I used for the journaling on the last layout is CK journaling.
* The pictures on the sides I did using a program called Micrografx windows draw. I clicked insert object, then clicked picture file. Once it's on the page I can click and drag to whatever size I want. I just eyeball it and put them close together if I want it to look like a strip. Those were about 2"X3". All the pictures from these layouts were printed on one page. I can put a bunch of different size pictures on one page if I use this program as apposed to my regular program where I have to do all of the same size and they have to be "normal" sizes. Did that make any sense?
* Cole is doing better. My heart still aches. It's both the physical stuff and the emotional. This is a small town with big town traffic, but not a lot of stuff here. I'm really enjoying trying to make this house feel homey. Right now the windows are open and it is beautiful outside...until the wind direction changes, then I smell the dairy cows and the smelly stuff that comes out of cows. I think Mark likes that smell. We are pretty close to the train tracks and I really do love to hear the trains. It's not too loud. You can hear them if the windows are open. Emotionally, I miss my friends and my house. I feel like I'm a Mesa girl trapped in Maricopa looking through the glass but can't get in. Just a kind of lonely feeling. I'm really trying to adjust and fit in here. It's just going to take some time. I'm the kind of girl who needs to feel needed...know what I mean?