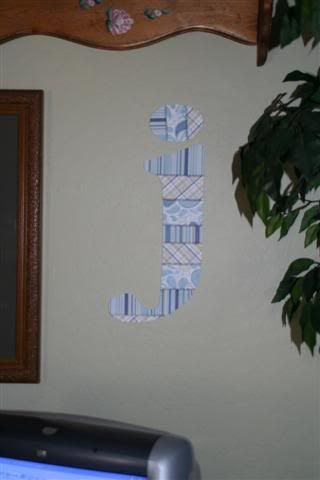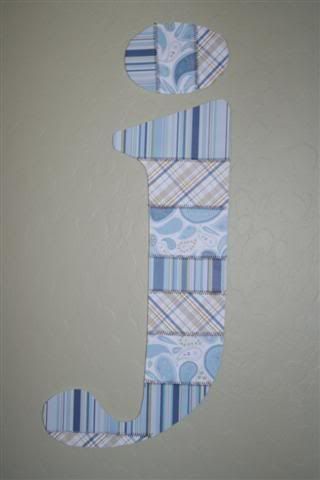 Whose suppose to update this thing anyways?...oh! that's right...ME! Where have I been? I really don't have much to blog about right now. Just been busy working on Mount Washmore. Got 5 BIG loads done yesterday and cleaned the kitchen twice. Working on my closet. This house gets out of control pretty darn quick! I did cover my big letter "J" by sewing together Chatterbox scraps from the Lake Powell layout. I was going to junk it up with some other stuff, but for now just beautiful paper. Not sure why the pictures are blurry...sorry about that. It looks much better in person. I hung it just above my computer...I like it there. I did open and install the QK silhouette, but haven't had the time nor been brave enough to play with it. Hopefully soon!

I made banana cream supreme and what they call better than sex cake. It really needs a new name, because I'm not fond of that one. I wouldn't say it's better, but it is REALLY good! Just bake a boxed devils food cake as directed, poke holes with the end of a wooden spoon while it is still warm, pour a can of sweetened condensed milk and a jar of caramel ice cream topping over the top. Refrigerate overnight. Next day spread cool whip over the top and chop up 6 heath candy bars to sprinkle on the top. I did 1/2 the cake with chopped up butterfingers because Mark doesn't like heath bars. So easy and seriously sinfully good.
Have you ever typed your name followed by the words "needs" in the google search? This is totally silly, but remember that I have nothing to blog about.
This is what I discovered Jolene needs....
...to be saved...

I don't think so...I'm good.
...a boyfriend...

yikes! I think Mark would disagree.
...a hat like yours...

I don't really wear too many hats, but I'm sure yours is lovely.
...to chill...

okay, I can chill for a little bit.
...to gain weight...

LOL! I don't think so, but I did eat cake for breakfast...not conducive to losing weight.
...to turn down the screechiness...

am I screechy, really?
...a wardrobe overhaul...

I AGREE!
...money...

well duh..If I had money I'd have the wardrobe overhaul!!!
...to eat properly...

you mean cake for breakfast is a bad thing?
...to be grand champion...

well I am competitive, but that sounds like a dog competition.
...exactly 40 pounds of potatoes...

Love me some taters...lots and lots of taters!
...to learn to hold my liquor...

PLEASE! I've never even had a drink. I think one would knock me out.
...a daughter...

that ship has sailed. I will settle for daughter in laws and hopefully grand daughters.
....to re-organize that...

I'll get right on that. Love to organize!
...a new hair do...

oh yes, please!
...her girlfriends emotional, moral and physical support....

I SO DO!
....to get every square inch of her butt kicked...actually it said the A word.

Can't we all just get along? Violence scares the heck out of me and I really don't want a butt kickin'.
...to be done already....

it really did say that. I'm outta here! :o)