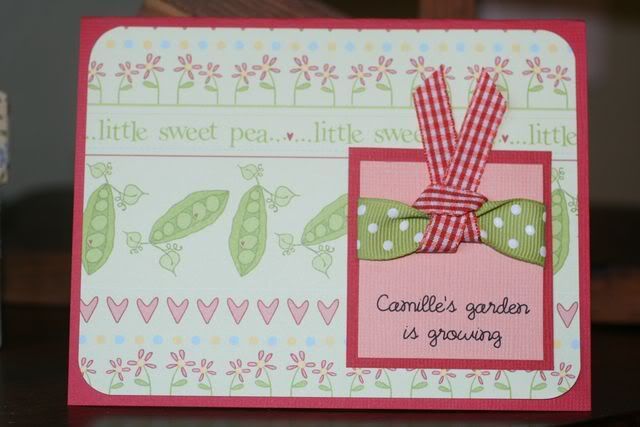 Here is the design I came up with for the baby shower announcements. It's cute, it's simple...not too fancy since I have to make 48 of them. The inside has all the shower information printed on the lighter pink cardstock. I sure hope Camille will like them. It's not like I gave her a choice. I'm more of a I'll do what I want kind of girl. Is that bad or what?! 1 down...47 to go. When I get these done I've gotta start on my Christmas cards. Those will take forever! Still have to come up with a design, but they will HAVE to be simple. Making 300 this year.
Last night Cole earned his webelos badge as well as over a dozen other awards. It was his LAST pack meeting because my baby is turning 11 next week. It's actually kind of sad to me. I've been doing cub scouts for so many years now with all 5 of my boys, that it's hard to believe it's over. He will move on to boy scouts., but Mark is the one who helps with that. I've always done the cub scouts. I'm so proud of all he got accomplished. It wasn't easy with the move and trying to fit in with a new group....sigh. Time passes much too quickly.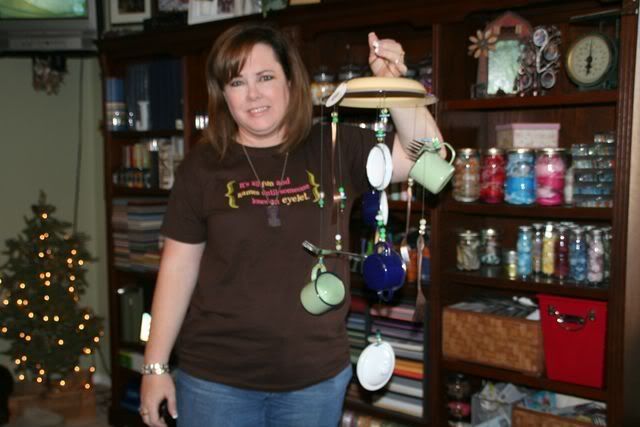 How cute is this wind chime?!?! Don't laugh...I LOVE it! It doesn't make this soft little ching ching noise...it's more like clang clang clang. Makes the boys nuts. That in itself is worth it to me. ;o) I love that it's dishes and silverware. I've gotta get a hook so I can hang it up out back. Does this make me a redneck? If so, I'm okay with that. Good people. :o)
I know I'm still being a not so good blogger and I STILL haven't had time to visit blogs or answer emails. I will try to do better. I've had to pick up Cody and Cole from school on two separate days. Cody wasn't feeling well and Cole was doing a handstand and fell on his head. Totally jammed his neck and sent a shock wave down his spine. Took him to the chiropractor. She said he did a real number to himself. I had young women's tonight. I had the girls make cork boards for their rooms to pin up their YW calendars and handouts on. I found cheap ones for 4.99 at Ikea. They painted the frames, then I let them use my quickutz to cut out whatever they wanted to embellish and personalize it. They had a great time. I'm surprised how fast I've learned to enjoy this group of girls. They are all so sweet and I think it's really going to be a great experience. There's been lots of other things keeping me busy, but I'm so tired and my eyes are twitching real bad, so I'm off to bed.