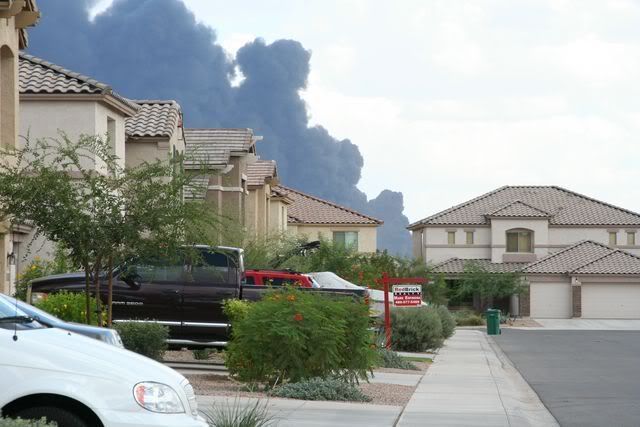 Cee emailed me to let me know that I hadn't blogged since Monday and she wanted to make sure I was okay. How sweet is that?! Truthfully I've had a really busy week and have been gone more than I've been home. I hate times like that because I'm a home body at heart and now my house is seriously neglected and I'm too tired to do anything about it. By the time I'd fall into bed each night I'd tell Mark that I didn't blog again today and my body won't let me get up to do it. So not only have I not blogged, but I haven't been able to catch up with many of you either. So sorry!
Linda asked if I was okay since Maricopa has had a huge tire fire burning. Here is a snapshot of it from my driveway. It looks pretty bad. I know the smoke from that is toxic, but it really hasn't been a problem for us. The wind carried the smoke to the valley so I could actually smell it more in Mesa than I do here. So Linda, the answer to your question is yes, we're okay and still breathing fine. :o)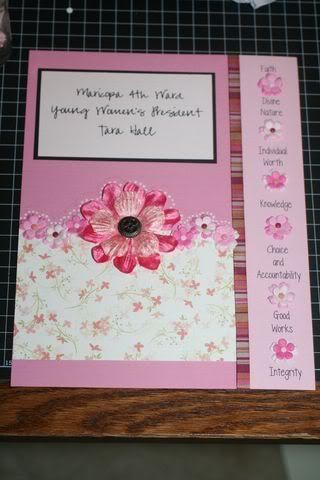 I'm working on these right now. They are covers for the Young Women's Presidency so we can slide them in our 3 ring binders. So fun to use some pink. I wanted to sew on them, but some boy who shall remain nameless messed around with my sewing machine and I've broken 3 needles trying to fix it. I can't seem to get the tension right...grrrr!!!
Beth had asked what our responsibilities are to the girls. We teach lessons in church on Sunday's, We have to plan a Wednesday night activity every week. Some are spiritual, some are goal oriented, some are fun. Once a month the activity is combined with the young men. On the cover I listed the 7 young women's values. They are faith, divine nature, individual worth, knowledge, choice and accountability, good works, and integrity. One of our responsibilities are to help them with their personal progress. They are to complete 6 goals in each of the 7 areas as well as a 10 hour project in each area over a span of 6 years. We are there to make them feel loved, deal with the emotional drama that teanage girls go through, help to teach them to be responsible, caring, creative, confident, fun, respectful, honest, moral women.
No pressure, huh?! :o)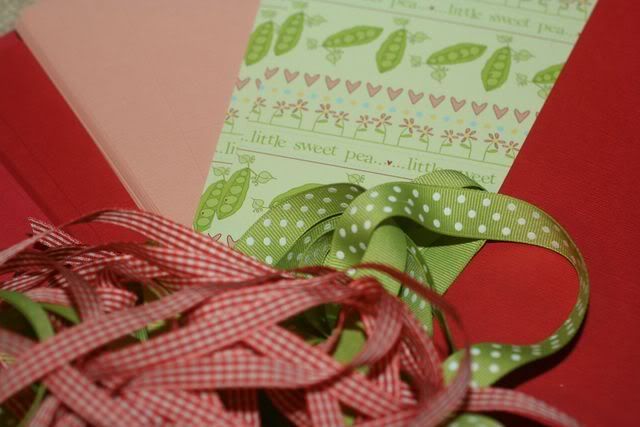 My next project is my niece Camille's baby shower invitations. I have the cute paper, the ribbon, but no design yet. I'm going with a garden theme so I think this paper is perfect. Even the dark pink paper is called watermelon. :o) I can't wait to experiment and play a bit. First I have to clean...then play! Wait till you see how I'm serving the food for the shower...WAY CUTE!